Southern Maple Single/Double Dog Diner
Buy this dog diner now!!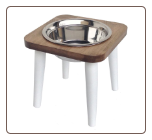 Click to enlarge image(s)
Southern Maple Single/Double Dog Diners
$93.17
ORDER NOW GET FREE SHIPPING
Just imagine feeding your dog without a proper dog diner and the possible mess in your home! Then take a good look at these raised single or double wooden Southern Maple Dog Diners. You will be stunned at the convenience and elegance of your classic, elevated dog diner.
Made in America from southern maple hardwood, these single and double bowl dog feeders depict the natural warmth of the maple while the carved wrought iron legs are coated in red or white color.
Southern Maple wood double stainless steel bowl dog diners with red and white carved legs
The stainless steel elevated double bowls are ideal to feed your dog with food and water in the same place. Also, since your wooden dog diner is a raised elevated dog feeder, there is less stress on the dog compared to a floor-level dog/pet bowl.
If you or your dog have arthritic conditions, these elevated dog diners with stainless steels bowls are beneficial to both you and your dog. There is less bending for you while the raised dog bowls support proper nutrition for your dog.
Cleaning is easy with raised dog diners. Water will not collect under the dog bowls to form mold and mildew. For both the single and double bowl, your small raised dog feeder is 6" tall and the large dog diner is 12" off the ground.
Customers who bought this dog diner also bought a dog diner placemat.
Southern Maple Elevated Dog Diner Measurements:
Small Single Bowl (1qt.): 8.25'L x 8.25"W x 6"H - 2lbs
Large Single Bowl (3qt.): 12"L x 12"W x 12"H - 4lbs
Small Double Bowl (1qt.): 16"L x 8.5"W x 6"H - 4lbs
Large Double Bowl (3qt.): 23.25"L x 12"W x 12"H - 9lbs
ORDER TODAY AND GET FREE SHIPPING
| | |
| --- | --- |
| Small single bowl diner (1qt.): | 8.25"W x 8.25"L x 6"H (2 lbs) |
| Large single bowl diner (3qt.): | 12"W x 12"L x 12"H (4 lbs) |
| Small double bowl diner (1qt.): | 8.2"W x 16"L x 6"H (4 lbs) |
| Large double bowl diner(3qt.): | 12"W x 23.25"L x 12"H (9 lbs) |
| | |
| --- | --- |
| The dog diners made in USA from maple wood | Assurance of high quality workmanship and material |
| Walnut top and carved colored legs | Stunning, convenient, elegant and classic dog diner |
| Elevated dog diner | Keeps feeding area clean and puts less stress on the dog while feeding |
| Choice of 6" or 12" tall wooden diner | Small or large dogs are comfortable dining |
| Removable stainless steel bowls | Easy to clean and refill |