$55.95 Reg.
$49.95 SALE
Designer Silver Dog Tent Bed
This designer dog tent bed is a wonderful dog tent shelter. It is a silver pop-up dog tent bed that is entirely suitable for a dog beach tent bed, a dog camping tent bed, or a dog travel tent bed.
This dog tent bed makes it possible for your dog to travel comfortably and safely to your destination. It is a convenient and light dog tent bed.
Your dog tent can be used both inside and outside your vehicle, and it is a fully collapsible dog tent bed allowing for easy storage when not in use.
Many dogs, by nature, suffer during trips by car or other means of transportation, while others suffer if they leave their domestic environment.
Our designer dog tent bed becomes very familiar to your dog and it represents a mobile-home for your dog. Some tests done on sensitive dogs, have shown improvements in behavior and a reduction of stress.
This designer dog tent bed is made of durable waterproof woven fabric with mesh panels for excellent air circulation. The front and back panels of the dog tent bed both have doors making easy access.
Equipped with straps and clips on the four corners, our designer dog tent bed will fit into any situation. Four poles are included in the dog tent package.
Without the poles, this designer dog tent bed can be free standing inside the house making it also an indoor dog tent bed.
This indoor dog house tent is also great for carrying; it can be used as a dog camping tent bed, a dog beach tent bed or a dog travel tent bed and it folds easily into a small package becoming a round bag with a handle.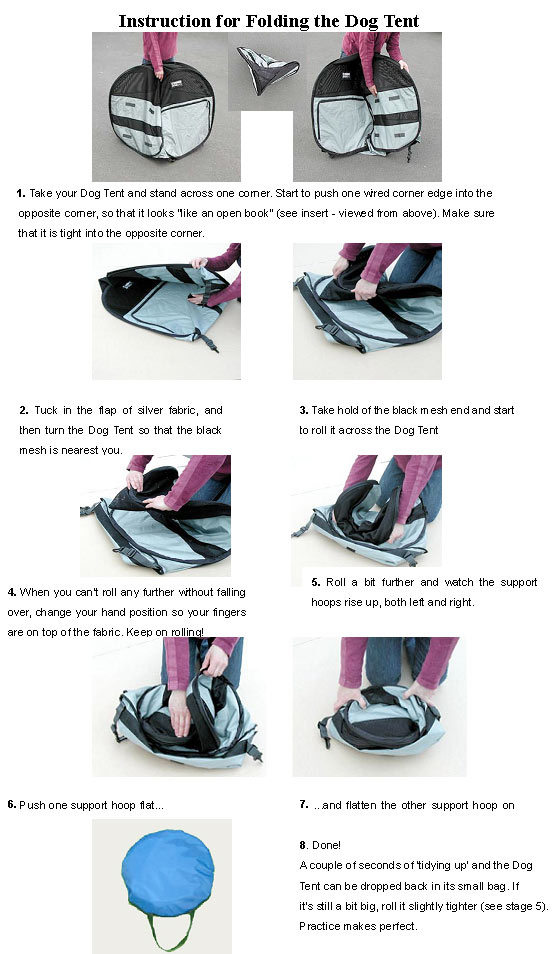 Your dog tent bed has fastening hooks which allow you to securely affix the dog bed inside the cargo or seating area(s) of your SUV, mini-van, or wagon.
During car trips, the dog tent bed doubles as interior protection for your vehicle! As such, this is a dog tent bed that will keep claw marks and messes from damaging the interior of your car.
Dog Bed Tent measurement: 36" x 36" x 36"

CURRENTLY OUT OF STOCK