Classic 3 wheel Dog Cat Stroller Carrier
Don't delay!!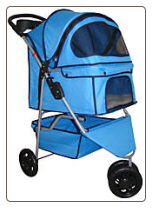 Click to enlarge image(s)
$79.97
Classic 3 wheel Dog/Cat Stroller Carrier

Made from Denier nylon, your pet carrier on wheels is tough and durable. This material makes your three wheel pet stroller water-resistant thereby providing excellent protection from rain.
These classsic 3 wheel pet stroller carriers are the best pet strollers in which to carry your cat or your dog for a stroll. They are equipped with a rain cover to protect your pet from wet weather.
So whether you are looking for a dog carrier on wheels or a cat stroller, this 3 wheel pet stroller functions very well as a cat or dog stroller. Your cat stroller carrier opens and folds in just 5 seconds so it is easily assembled or disassembled.
Some features of the 3 wheel cat dog strollers include both front and rear entry as well as top, front and rear ventilation. Durable mesh window on your wheeled pet carrier also keeps the bugs out. The mesh on these doggie strollers provides excellent air flow and visibility.
Large storage basket and cup holders are also important features of your rolling pet carriers. Toys, treats and water bottles can be carried on the strollers for your dog or cat while the large 6.5" wheels on the strollers glide easily over smooth or uneven surfaces.
Many pet owners love pink pet carriers. Make that selection if you prefer pink. Other color options for the pet doggie stroller carriers include a blue pet carrier on wheels and a black cat/dog stroller with red trim.
Wheeled pet carrier measurements:
Opened 3 wheel pet stroller: 33"(L) x 14.5"(W) x 38.5"(H)
Folded three wheel pet stroller: 33"(L) x 17"(W) x 8"(H)
Cat dog stroller cargo area: 21"(L) x 13.5"(W) x 20"(H)
These doggie strollers accommodate your pet up to 25 lbs.
Images of the classic 3 wheel pink pet stroller carrier as well as the blue and the black/red cat dog stroller are shown below.
| | | |
| --- | --- | --- |
| Three wheel classic pet stroller carrier - pink | 3 wheel doggie stroller carrier - blue | Black and red 3 wheel dog stroller |
| | |
| --- | --- |
| Pet strollers folded: | 33.5"(L) x 17"(W) x 8"(H) |
| Dog strollers opened: | 33"(L) x 14.5"(W) x 38.5"(H) |
| Doggie strollers cargo area: | 21"(L) x 13.5"(W) x 20"H |
| Weight limit of pet carrier strollers: | 25 lbs |
| Wheels on cat dog stroller: | 6.5" |
| | |
| --- | --- |
| Your 3 wheel pet stroller opens and closes in 5 seconds | Easily and quickly assemble and disassemble your carrier |
| This cat dog stroller accommodates 25 lbs | Strong enough for medium sized dogs |
| A pet carrier on wheels with both front and rear entry | Access the stroller from the back or front |
| Three wheel pet strollers with large storage area | Adequate for storing toys, treats, water bottles |
| Pink, blue, black/red pet carriers on large 6.5" wheels | Wheels move easily over smooth or uneven surfaces |
| Made from Denier nylon material | Tough and durable pet stroller, water resistant, excellent protection from rain |
| Durable mesh window on your dog/cat stroller | Keeps out bugs, excellent visibility |
| Pet stroller carrier with top, front and rear ventilation | Excellent airflow from three directions |