Regal Single Dog Diner
Approved by your dog!!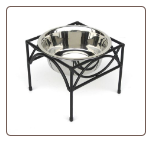 Click to enlarge image(s)
Regal Single Dog Diner
This elevated regal single dog diner is a popular dog diner available in three sizes. The small dog diner is only 5" tall and the large single dog diner is 12" tall. It is a simple raised dog feeder with a single stainless steel dog bowl fitted into the frame.
Your elevated dog bowl stand is made from wrought iron and the stainless steel dog bowl is affixed to produce an elegant elevated dog diner feeding station.
Equipped with non-skid plastic tips on the leg, your raised regal dog feeder can be placed anywhere in your home. It is a raised single dog diner with a square shape that is enhanced with a regal design.
Your regal single dog diner measurements:
Small single dog diner (1 qt. bowl): 6"x 6"x 5"tall - 3 lbs
Medium single dog diner (2qt. bowl): 8" x 8" x 7" tall - 4 lbs
Large single dog diner (3qt. bowl): 9.5" x 9.5" x12'" tall - 6 lbs
| | |
| --- | --- |
| Small regal dog single diner: | 6" x 6" x 5" high - 3lbs |
| Medium regal single dog diner: | 8"x 8" x7" high - 4lbs |
| Large regal single dog diner: | 9.5" x 9.5" x 12" high - 6lbs |
| | |
| --- | --- |
| Square wrought iron stand for your elevated dog feeding station | |
| Stainless steel dog bowl in frame of raised dog diner | |
| Non-skid tips on legs of dog diner | |