18" Raised Single Pyramid Dog Diner
No more bending over!!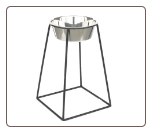 Click to enlarge image(s)
$75.95 Reg.
$67.95 SALE
18" Raised Single Pyramid Dog Diner

Owners of giant breed dogs really love this raised 18" tall single pyramid dog diner. The simple design is attractive with a stainless steel bowl seated in a wrought iron stand.
It is well known that raised dog diners are the preferred method of feeding large dogs and this elevated dog feeder accommodates large dogs as well as ailing dogs. For example, dogs suffering with arthritis will not have to bend too much to be properly fed.
Arthritis may prevent your pet from bending over. In such cases the pyramid dog diner presents a great option. It helps to minimize the stress that large dogs normally feel when feeding from low-level or non-elevated dog bowls.

If you have tall dogs or pets with arthritic conditions, this raised pyramid diner allows your dog to eat and drink in comfort. Dogs will not gulp their food as much and their owners will not have to visit the veterinarian for bloating - especially in larger dogs.

Your elevated dog feeder encourages proper nutrition and places your pet's health equal to your requirement for function and design. Furthermore, pet owners do not have to reach all the way to the floor to retrieve the dog feeding dish.
This is an Xlarge raised 18" tall single pyramid dog diner available in two color variations. Choose the silver moon diner dispalyed at the top of this page or the black diner shown below.
Dimension of Raised Pyramid Dog Diner: 12.25" x 12.25" base x 18" tall - 3qt.
| | |
| --- | --- |
| Dimensions | 12.25" x 12.25" x 18" tall - 6 lbs. |
| | |
| --- | --- |
| A non chewable dog diner | Will last a very long time |
| Elevated diner | No need for both pet and owner to bend too much |
| Pyramid design | Complements other items of furniture in your home |