Raised Circle Bone Dog Diner
Gotta fetch this bone diner!!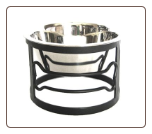 Click to enlarge image(s)
Raised Circle Bone Dog Diner

Are you looking for a sturdy and durable single dog diner with a choice of stainless steel bowl or colored ceramic feeding dish?
This raised circle bone dog diner is made from flat wire wrought iron and is available in three sizes ranging from 5 inches to 10 inches tall. It is sturdy, it is durable, and it is also fancifully stylish, featuring a decorative dog bone design on the stand.
One significant health benefit to using an elevated feeder for your dog is the reduction of stress to the neck area associated with bending over when eating and drinking from floor-level diners. That is an important reason why veterinarians recommend an elevated pet feeding dish.
Using raised dog bowls will encourage proper nutrition. So you have options. If you prefer to have separate diners for eating and drinking, you can obtain two diners of similar or different color stands. You may also want to have a single bowl elsewhere in your home exclusively for water.
Small, medium and large Circle Bone Diners

| | | |
| --- | --- | --- |
| | | |
There is a rubber gasket around the rim of the bowl to prevent it from slipping or sliding, so that horrible screeching sound associated with metal rubbing against metal is completely eliminated. The wrought iron stand is finished in both black and a silver moon color.
Customers are particularly pleased with the introduction of ceramic bowls. These colored bowls shown below are made to order and are available with the small and medium stands only. So now there are even more variations to your possible choice.
Go ahead and make your selection. Choose the stainless steel or the hand-made colorful ceramic bowls as well as the black or silver stand. Whatever combination you select will be a welcome addition to your home pet decor.
More colored ceramic dog bowls for the raised dog diner.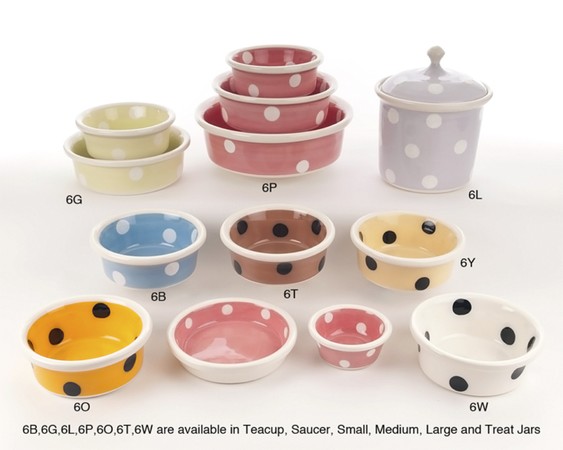 Various dog bowl colors for the single circle bone dog diner
N. B. The ceramic bowls are only available with the small and medium size stands. The stainless steel dog bowls are available with all sizes.
Small diner - 5" tall; bowl capacity: 1 qt.
Medium diner - 7" tall; bowl capacity: 2 qt.
Large diner - 10" tall; bowl capacity: 3 qt.
| | |
| --- | --- |
| Sml Cir Bone Dog Diner | 6.25" x 6.25" x 5" high - 2 lbs (capacity 1qt.) |
| Med Cir Bone Dog Diner | 8" x 8" x 7" high - 2 lbs (capacity 2 qts.) |
| LG Cir Bone Dog Diner | 9.5" x 9.5" x 10" high * 3lbs (capacity 3 qts.) |
| | |
| --- | --- |
| Made from flat wire wrought iron | Sturdy and durable dog diner |
| Stainless steel or ceramic bowls | Easy to clean dog diner |
| Dish washer safe dog diner | More cleaning options |
| Bowl holders under the rim | Prevent dog bowls from skidding around |