Raised Single Mesh Dog Diner
This is the diner!!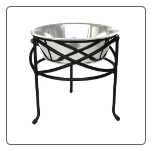 Click to enlarge image(s)

Raised Single Mesh Dog Diner

It is impossible to not fall in love with this sleek and elegant raised single mesh dog diner. Available in five sizes with three color options for the stand and a choice of stainless steel or ceramic dog bowls, it is sure to capture your attention.
Quite a fashionable wrought iron diner, it is sturdy and features a simple criss-cross pattern with non-slip plastic tips on the legs of the small, medium and large diners. The circular base on the XLarge sizes stabilizes the diner, so it is difficult to be toppled. You can select from a height of 5 inches to 18 inches tall.
| | | | | |
| --- | --- | --- | --- | --- |
| Side view Lg 10" | Sm 5", M 7", L 10" | Front view Lg 10" | XL 15" tall | XL 18" tall |
The images of your elevated dog diner above shows the stainless steel dog bowls seated in the wrought iron mesh stand. The bowls are fitted with rubber under the lip, so there is no shifting to cause any rattle. They are removable for easy cleaning. To complement your home decor, the color choices for the stands include black, white or silver moon.
Prefer ceramic dog bowls? Select from seven (7) attractive colors in the order box below. Our most popular single bowl dog diner is also now available with ceramic dog bowls exclusively with the small, medium and a special XLarge 10" size that's made with a larger ring. Take a look!!
| | |
| --- | --- |
| XL 10" Dog diner w/pink ceramic dog bowl | XL 10" Dog diner w/green ceramic dog bowl |
More colored ceramic dog bowls for the raised dog diner.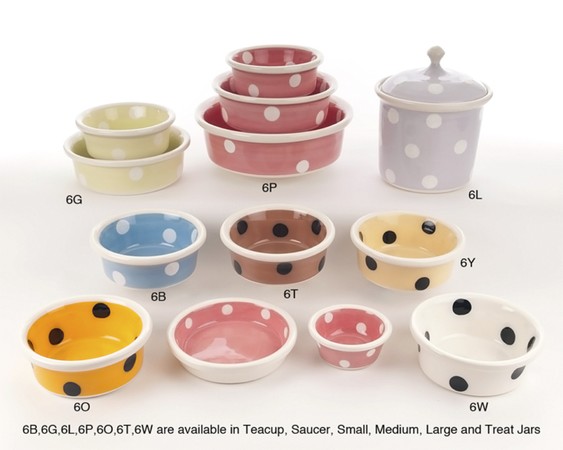 Various dog bowl colors for the single mesh dog diner
Your fashionable wrought iron mesh diner brings many benefits for both the pet and owner. Useful for both water and food, the elevated diner contributes to easier digestion and pet owners with stiff muscles and sore joints will never have to bend all the way down again to pick up the dog bowl!!
N. B. The large ceramic dog bowls will fit only the special extra large dog diner 10" stand and the stainless steel dog bowls are not available with this XL 10"stand.
Also, please note that the ceramic bowls are hand made to order. This takes a few days to "fire and to cool and harden" thereby ensuring that the bowls are of premium quality.
Dimensions for the Raised Single Mesh Dog Diner

| | | | | |
| --- | --- | --- | --- | --- |
| Size | Diameter | Height | Weight | Bowl Capacity |
| Sml | 6 1/2" | 5 inches | 2 lbs | 1 quart |
| Med | 8 1/2" | 7 inches | 3 lbs | 2 quarts |
| Large | 9 1/2" | 10 inches | 4 lbs | 3 quarts |
| XL -15" | 11 1/2" at bottom | 15 inches | 11 lbs | 3 quarts |
| XL -18" | 11 1/2" at bottom | 18 inches | 12 lbs | 3 quarts |
| | |
| --- | --- |
| Sml dog diner | 5" tall |
| Med dog diner | 7" tall |
| LG dog diner | 10" tall |
| Special XL stand for ceramic bowl | 10" tall |
| XL stand | 15" tall |
| XL stand | 18" tall |
| | |
| --- | --- |
| This dog diner cannot be chewed | Your diner remains in excellent condition |
| An easy to clean dog diner | No difficulty in keeping the diner clean |
| A very durable dog diner in five sizes | Long lasting dog diner |
| Choice of ceramic or stainless steel dog bowls | You decide what bowl you prefer |