Raised Regal Double Dog Diner
Get yours today!!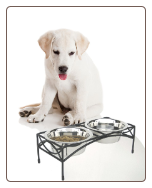 Click to enlarge image(s)
Raised Regal Double Dog Diner
$61.95 Reg.
$49.97 SALE
Simply elegant!! This is a modern and stylish elevated dog feeder constructed with "back to the basics" design. It is a raised dog diner that allows your pet to dine in comfort and safety.
For example, if the pain of arthritis prevents your pet from bending over for the amount of time necessary to eat and drink adequately from the dog feeding dish, your elevated dog diner reduces the stress that dogs and cats experience when using conventional floor-level dog/pet bowls.
Veterinarians recommend elevated dog diners to encourage proper nutrition, and raised dog bowls are especially helpful for older pets that suffer from neck or back arthritis. The heights of the stand for this Regal Double Dog Diner ranges from 3 inches to 12 inches and they are available in black, mocha and silver moon variations.
Side views of medium black and large silver moon regal double dog diners
Stainless steel bowls are standard features with your Regal dog diner which is fitted with non-skid plastic tips on the legs, so your pet will be less tempted to push the elevated dog bowl around the floor.
Colorful large ceramic bowls are also available exclusively with the XL black stand. This XL stand is offered in black color only.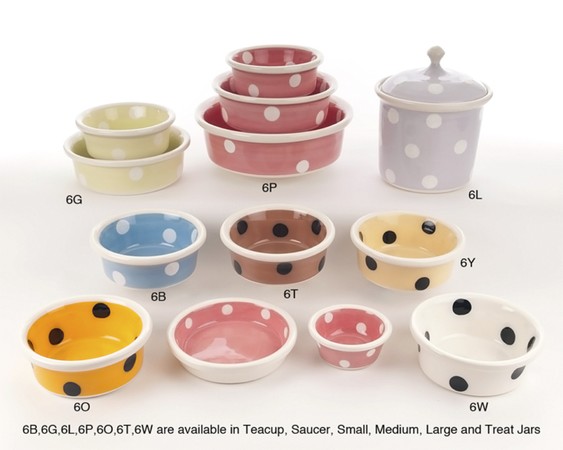 Various dog bowl colors for the XLarge dog diner only
An added benefit is that elevated dog diners help keep your dog's feeding station clean. With raised dog bowls, water cannot collect under the dog bowls and form unsanitary mold and mildew.
Four sizes with s/steel bowls & seven ceramic colors for the XL stand.
XSmall dog double diner: 1/2 pt. bowls, 3" tall - 2 lbs
Small regal double diner: 1 qt. bowls, 13.5" x 6.25" x 5" tall - 5 lbs
Medium dog double diner: 2qt. bowls, 17.5" X 8" X 7" tall - 8 lbs
Large regal dog double diner: 3 qt. bowls, 21" x 9.5" x 12" tall - 12 lbs
XL double diner: 3 qt. ceramic bowls, 23" x 11" x 12" tall
Customers who bought this dog diner also bought a dog diner placemat.
| | |
| --- | --- |
| XSmall raised dog diner: | 1/2 pt. bowls; 9.75" x 4.25" x 3" high - 3lbs |
| Small raised dog diner: | 1 qt. bowls; 13.5" x 6.25" x 5" high - 5lbs |
| Medium raised dog diner: | 2 qt. bowls; 17.5" x 8" x 7" high - 8lbs |
| Large raised dog diner: | 3 qt. bowls; 21" x 9.5" x 12" high - 12lbs |
| XLarge double diner for ceramic bowls | 3 qt. bowls; 23" x 11" x 12" high |
| | |
| --- | --- |
| Stainless steel and ceramic dog bowls | Easy to clean dog bowls |
| Raised dog diner | Easy to keep feeding station clean |
| Stand heights range from 3 - 12 inches tall | Great accommodation for small or XL dogs |
| Non-skid plastic tips on the legs | High resistance to skidding |