Arbor Dog Double Diner
Get yours today!!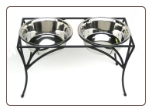 Click to enlarge image(s)
$55.95
Arbor Dog Double Diner

Go ahead, click the image and have a good look!! Designed like an arbor, this raised dog double diner depicts a garden alcove without top bars, imparting a lovely organic look.
The distinct and dominant theme in the design of your arbor dog diner blends a natural tree branch motif with clean curved lines. The design is quite simple. It portrays elegance with a minimalist perspective. Can't you imagine its exact location in your home?
Your elevated dog double feeder easily satisfies the requirement for function and design, and the health of your pet is an important consideration. Using the Arbor double dog diner will encourage proper nutrition especially for older dogs with arthritis.
Veterinarians recommend elevated dog diners because these dog diners reduce the stress encountered when dogs use floor-level dog feeder/diners.
The small, medium and large arbor dog double diners are 5", 7" and 12" high respectively and weigh 4, 6 and 10 lbs. Two stainless steel double diner dog dish/bowls are included with your dog double diner.
Dimensions of your Arbor Dog Double Diner
Small Arbor Dog Double Diner: 13.5"L x 6.5"W x 5"H; 4 lbs
Medium Arbor Dog Double Diner: 17"L x 8"W x 7"H; 6lbs
Large Arbor Dog Double Diner: 20"L x 9.5"W x 12"H; 10lbs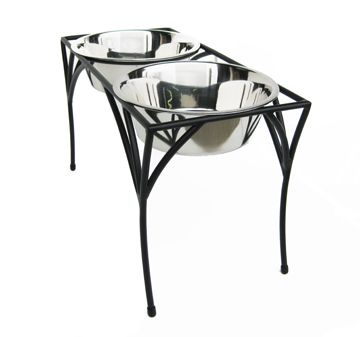 Side view of the Arbor Double Dog Diner
Customers who bought this dog diner also bought this dog diner placemat.
| | |
| --- | --- |
| Small double dog diner 1qt.: | 13.5" x 6.5" x 5"; 4 lbs. |
| Medium double dog diner 2qt.: | 17" x 8" x 7"; 6 lbs. |
| Large double dog diner 3qt.: | 20" x 9.5" x 12"; 10 lbs. |
| | |
| --- | --- |
| Designed like an arbor depicting a garden alcove | Lovely organic and minimalist look |
| Elevated diners recommended by veterinarians | Reduce stress compared to floor-level dog diners |