Seesaw Double Dog Diner
Treat your dog today!!!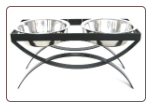 Click to enlarge image(s)
Seesaw Dog Double Diner
$75.00 Reg.
$69.97 SALE
The Seesaw double diner for dogs is constructed from heavy duty flat iron. It's a sturdy dog diner with a beautiful seesaw design. Your double dog pet feeder has non-skid plastic tips on its legs to protect your floor or carpet.
There are two stainless steel dog bowls in this dog diner, which can be used as a dog food bowl and a dog water bowl. You also have the choice of feeding your beloved pet dog in a small, medium or large dog diner.
These stainless steel dog bowls that are placed in the dog double diner will hold up to 3 quarts and the dog bowls fit quite nicely in the dog diner frame. Your seesaw dog double diner is available in black or mocha colors.
It is quite easy to handle this dog double diner because the weight ranges between 5 lbs. for the small diner and 10 lbs. for the large dog diner. In addition, the height of these dog are as low as 5 inches for the small diner and a maximum of 10 inches for the large.
Looking for a dog double diner with an attractive design? Your seesaw dog double diner has all the features to satisfy your needs. Your dog will dine in fine style with this raised or elevated iron dog feeder.
See more measurements of your seesaw dog double diner below.
Customers who bought this dog diner also bought a dog diner placemat.
| | |
| --- | --- |
| Small dog diner | Height: 5"; Weight: 5 lbs; 1 quart dog bowls |
| Medium dog diner | Height: 7"; Weight: 7 lbs; 2 quart dog bowls |
| Large dog diner | Height: 10"; Weight: 10 lbs; 3 quart dog bowls |
| Measurements of sml dog diner: | 13.25" x 6" x 6" |
| Measurements of med. dog diner: | 17" x 8" x7" |
| Measurements of Lg dog diner: | 21" x 9.5" x 10" |
| | |
| --- | --- |
| Non-skid plastic tips on dog diner legs | |
| Dog bowls hold up to 3 quarts | |
| Easy to handle dog diner and dog bowls | |