Vision Indoor/Outdoor Dog Double Diner
Make your choice now!!!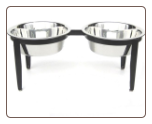 Click to enlarge image(s)
$63.95 Reg.
$59.97 SALE
Vision Indoor/Outdoor Dog Double Diner
Take a good look at this vision indoor/outdoor dog double diner. It is an elevated double dog diner that fits extremely well in modern and traditional settings.
Whether you need an indoor dog diner or an outdoor dog diner, many dog owners just love the eyeglass design. This indoor/outdoor dog double diner with powder coated UV resistant finish could well be called a double vision dog diner.
Available with stainless steel dog bowls, your vision dog double diner serves a double purpose. Your dog diner makes a good dog feeder dish as well as a dog water bowl.
The wrought iron frame of the vision pet dog feeder, is very sturdy and it is finished with a UV resistant black or white powder coat. Non-skid, clear plastic tips on the legs of your dog double diner eliminates any scratching of your floors, even if your dog is able to move the double diner around.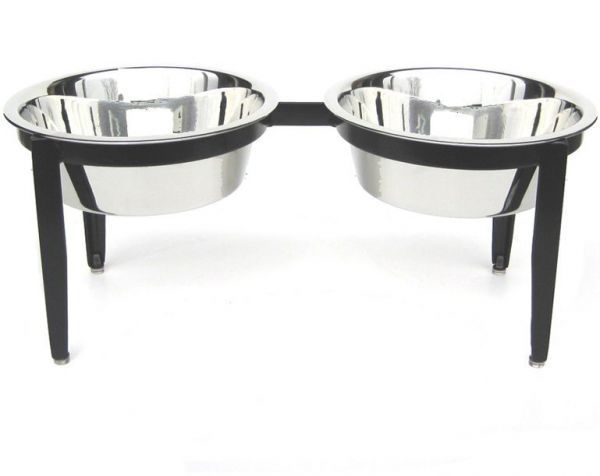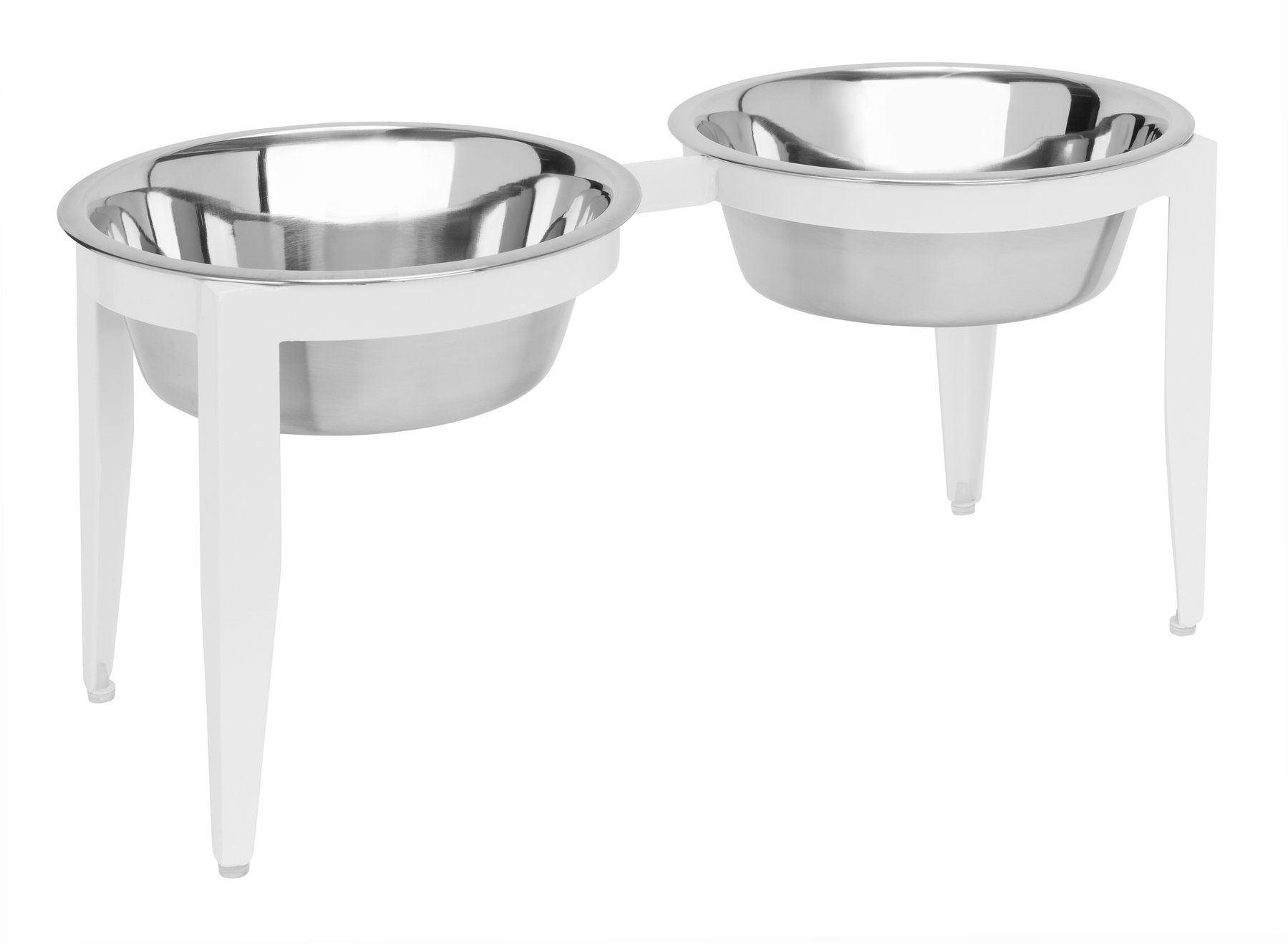 Black and white indoor/outdoor double diner for dogs
It is a metal raised dog feeder that comes in three (3) sizes weighing up to 10 lbs. The dog bowls will hold between 1 to 3 quarts and the dimensions of your vision indoor/outdoor dog double diner allow easy handling.

Dog Size Guide for Diners
| | | |
| --- | --- | --- |
| 4.5"- 6" | 7" - 9" | 10" - 12" |
| Small Dog - 1 qt. bowls | Medium Dog - 2qt. bowls | Large Dog - 3qt. bowls |
| Corgi | Basset Hound | Boxer |
| Daschund | Dalmatian | Bullmastif |
| Maltese | German Shepard | Great Dane |
| Papillon | Irish Setter | Leon Beger |
| Pug | Siberian Husky | Mastiff |
| Yorkie | Vizsla | Saint Bernard |
So let your dog dine in style in an elevated dog feeder.
Customers who bought this dog diner also bought a dog diner placemat.
| | |
| --- | --- |
| Small dog double diner | Height: 5"; Weight: 5 lbs; 1 quart dog bowls |
| Medium dog double diner | Height: 7"; Weight: 7 lbs; 2 quart dog bowls |
| Large dog double diner | Height: 10"; Weight 10 lbs; 3 quart dog bowls |
| | |
| --- | --- |
| Metal raised dog feeder | Makes your dog diner sturdy |
| UV resistant powder coated finish | Retains paint integrity for long time |
| Non skid plastic tips on legs of dog diner | Eliminates any floor scratches |