Dog Crate-A-Lounge & Crate Pads
Made for the road!!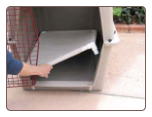 Click to enlarge image(s)
$60.95 Reg.
$45.95 SALE
Dog Crate-A-Lounge
Free Shipping!!
Our Dog Crate Lounges are made for the road! These portable dog crate lounges are made with the highest quality, furniture grade PVC.
Whether you are looking for a small dog crate bed or a large dog crate bed, we have four dog crate lounge bed sizes to suit your pet.
When you buy Dog Crate-A-Lounge from us, you are assured of an excellent dog crate lounge, and what's more, we will send your dog crate lounge free shipping.
These dog crate lounges are portable and they are your dog's home away from home.
Dog Crate Pad
For added comfort, we also have crate pads for all the dog crate bed lounge sizes and there is no shipping!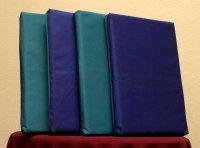 Dog Crate Pads
The dog crate pads fit on top of the dog crate lounge. The two-part crate pad consists of a 1 1/2" inner foam and a removable and washable dog crate cover made of cordura.
Pictures of the dog crate pads are shown above, and the sizes for the crate pads are shown in the popup menu inside the ordering box.
Free Shipping!!
(within the continental United States)
| | |
| --- | --- |
| Dog Crate Bed Lounge: | 14"x21"; 16"x26"; 18"x30"; 21"x34" |
| Dog Crate Pads: | 23"x17"; 29"x18"; 35"x23"; 41"x37"; 47"x29" |
| | |
| --- | --- |
| Dog Crate-A-Lounge: Compact, portable and durable. Made with furniture grade PVC. Free Shipping!! | |
| Dog Crate Pads: Machine washable, removable cover made of Cordura. Free Shipping!! | |