Dog Fur Coat
Buy yours now!!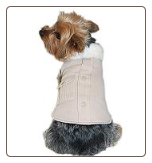 Click to enlarge image(s)
Dog Fur Coat
$28.95
A fantastic faux-fur dog coat!! This item of dog clothing is a dog fur coat available as a cream dog coat, a grey dog coat or you can order the burgundy coat for your dog. These dog coat colors are attractive colors for your dog in a coat.
The fur dog coat sizes range from an xsmall dog fur coat to a large dog fur coat, so whenever you want to let your dog wear a fur coat, this is an exquisite coat for a small dog or a large dog.
Going on the town with your dog in its coat? Your luxurious faux-fur collared dog coat with regal colors will turn heads. Made from 100% cotton this is the dog coat for superb comfort.
The adjustable velcro closure at the neck and the chest of your dog coat ensures that your dog fits comfortably in its coat. The faux-fur around the collar of your dog coat also keeps your dog warm.
Take a good look at this faux-fur collared dog coat below and select your XXS, XS, small, medium or large designer faux fur dog coat.
| | |
| --- | --- |
| Small cream faux-fur dog coat | Burgundy fur dog coat |
| | | | | |
| --- | --- | --- | --- | --- |
| Dog Fur Coat | Length (inches) | Girth (inches) | Neck (inches) | Weight (pounds) |
| Extra extra small dog fur coat | 6.4 | 10.5 | 6.4 | 1.2 - 2.2 |
| Extra small dog fur coat | 7.9 | 12.0 | 7.9 | 2.0 - 5.0 |
| Small dog fur coat | 9.8 | 14.0 | 9.5 | 5.0 - 7.0 |
| Medium dog fur coat | 11.8 | 16.5 | 11.0 | 7.0 - 10.5 |
| Large dog fur coat | 13.8 | 18.9 | 12.6 | 10.5 - 15.4 |
Free Shipping!!
(within the continental United States)