Dog Detective Coat
Fetch one now!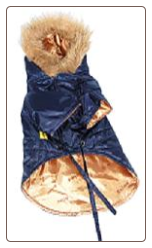 Click to enlarge image(s)
Designer Detective Dog Coat

$39.95 Reg.
$26.95 SALE
FREE SHIPPING
A durable piece of dog clothing!! This fashionable fur-hooded detective dog jacket features function and lots of style. Your dog coat offers adequate protection from the elements and is available in five sizes ranging from XXS to LG.
If you are looking for a dog winter coat or you just like your dog to travel in style, this detective hoodie dog coat provides superb comfort.
Your dog coat is equipped with snap-on button closures with drawstring so you can adjust the jacket to fit your dog. If your search for dog clothing includes a dog coat with decorations, you will also love the white buttons on the back.
This designer dog coat is a soft dog coat and it keeps your dog warm. The interior of your dog jacket is made from shiny, quilted polyester material while the exterior of your dog jacket is made from a durable water-resistant polyester blend.
The acrylic fur hood lining on this detective dog coat completes a well built coat for your dog. Your dog coat is streamlined for maximum comfort and is available in red and blue colors.
| | | | | |
| --- | --- | --- | --- | --- |
| Designer Dog Coat | Length (inches) | Girth (inches) | Neck (inches) | Weight (pounds) |
| Extra extra small dog coat | 6.4 | 10.5 | 6.4 | 1.2 - 2.2 |
| Extra small dog coat | 7.9 | 12.0 | 7.9 | 2.0 - 5.0 |
| Small dog coat | 9.8 | 14.0 | 9.5 | 5.0 - 7.0 |
| Medium dog coat | 11.8 | 16.5 | 11.0 | 7.0 - 10.5 |
| Large dog coat | 13.8 | 18.9 | 12.6 | 10.5 - 15.4 |
Free Shipping!!
(within the continental United States)
| | |
| --- | --- |
| Fashionable acrylic fur-hooded dog jacket coat | |
| Quilted shiny polyester interior dog jacket | |
| Durable water-resistant polyester blend on exterior of dog coat | |
| Snap-on button closure with drawstring on your dog coat | |
| White buttons on back of dog jacket | |