Dog Wire Crate
Gotta get one now!!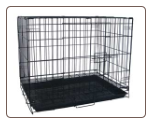 Click to enlarge image(s)
Pet Dog Wire Crate/Cage
$34.95
Your pet cage is a small wire dog crate that's ideal for crate training a puppy or small dogs. This wire dog crate measures 20" x 13' x 15" and is a useful playpen for keeping your puppies above moisture.
Your dog crate is available in black, pink and blue colors.
It's an innovative pet cage that's a hygienic small dog wire crate used by many owners of small dogs as a small pet cage. The wire mesh floor panels in your dog wire crate elevates your puppy.
If you are crate training a puppy, the 1/2" spacing in the wire mesh of this pet cage is safe for small pets. The wire mesh on your puppy training crate is powder-coated to ensure durability.
So you can use this puppy training crate to safely crate train your puppy or just as a small pet cage.
Your pet cage features a black powder-coated pan for easy cleaning. This wire dog crate also folds down flat for convenient travel and storage.
The side doors on your small pet cage/dog wire crate allow easy access for crate training your puppy.
Dimensions of your puppy training crate: small puppy crate (20" x 31" x 15"), medium training crate (24" x 17" x 20"), large training crate (30" x 21" x 24").
| | |
| --- | --- |
| Pink Wire Dog Crate/Cage | Blue Wire Dog Crate/Cage |
SOLD OUT
| | |
| --- | --- |
| Small pet cages: | 20" x 13" x 15" |
| Medium pet cages: | 24" x 17" x 20" |
| Large pet cages: | 30" x 21" x 24" |
| | |
| --- | --- |
| Pet cage folds flat for convenient travel and storage | |
| Powder-coated wire for durability of the dog crate | |
| Black powder coated pan for easy cleaning | |
| 1/2" wire mesh spacing on the pet cage safe for small dogs | |