Dog/Pet Apparel
What a deal!!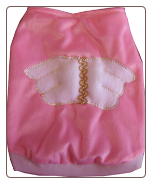 Click to enlarge image(s)
Dog/Pet Apparel
$15.95
Dress up your dog. Dress up your cat. When you dress up your pet in these cute designer pet apparels, you will enhance their personality.
Whether your search for dog clothes is for small dog clothes or big dog clothes, you will notice that the designer dog apparel listed here, allows you to dress up your dog in pink dog clothes or blue dog clothes.
Your dog and cat will love the cute Pink Angel or the Blue Angel sytle dress. The Pink or Blue Happy Moon dog clothes are sure to attract favorable comment when you dress up your dog in its pink or blue dog dress.
Don't forget the pink and the blue Happy Bunny dog apparel.
| | | | | |
| --- | --- | --- | --- | --- |
| Pink Angel dog/pet apparel 2179P | Blue Angel dog/pet apparel 2179B | Pink Happy Moon dog apparel 2180P | Blue Happy Moon dog apparel 2180B | Red dog dress w/polka dot 2182 |
| | | | | | |
| --- | --- | --- | --- | --- | --- |
| Pink Happy Bunny dog appare 2181P | Blue Happy Bunny dog apparel 2181B | Pink dog dress w/pumpkin 2185P | Blue dog dress w/pumpkin 2185B | White dog dress w/polka dot 2186 | |
Each item of dog clothes is a cute designer style dog dress made from luxurious fleece fabric. Your dog/cat dress apparel is made with integrated half sleeves to allow ease of movement.
The pink or blue dog clothes add to the color in photo opportunities. During holidays, special visits and parties, why not dress up your dog, dress up your cat in their favorite designer pet apparel.
The chart below gives a good guide for selecting the size of your dog clothes. To get the correct size dog dress apparel, measure your dog from the base of the neck to the tail.
| | |
| --- | --- |
| Size of your dog clothes | Typical dog breed that fits this size dog dress apparel. |
Small dog dress clothes
Dog measurement: (up to 12")

Toy Poodle; Yorkshire Terrier; Chihuahua; Pomeranian; Silky Terrier; Boston Terrier; Maltese; Jack Russell Terrier; Pug
Medium dog dress clothes
Dog measurement: (13"- 16")
Cocker Spaniel; Scottish Terrier; Bichon Frise; Beagle; Corgi
Large dog dress clothes
Dog measurement: (17"-20")

Springer Spaniel; Brittany Spaniel; Border Collie; Dalmatian
| | |
| --- | --- |
| Your dog clothes made from luxurious fleece fabric | |
| Integrated half sleeves in the dog apparel allows easy movement | |