Rest A Pet Dog Lounge Bed and Dog Tent
$168.95 Reg
.
$124.95 SALE
Free Shipping
Dog Beds Galore is proud to offer these Rest A Pet dog bed lounges and dog bed tents for the comfort of your dog. SummerwindsBis are the INVENTORS of the exclusive Rest-A-Pet Lounge dog beds/tents, which offer the best in materials and construction.
Nothing is spared in the construction of these dog lounges and bed tents for your dog . Only furniture-grade PVC, (stronger and more durable than the stuff you use under your sink!), the highest quality vinyl, textylene, and outdoor fabrics are used in making these raised lounge dog beds and dog tents.
Accept NO SUBSTITUTES when it comes to the comfort and safety of your pet!
Made of 1-1/4" furniture grade PVC, the dog bed lounges and dog bed tents are safe, sturdy, and ultra-durable! They are elevated dog beds, standing 12" in height, with the exception of our 14x20 (8"), 20x24 (8"), and 40x62 (14").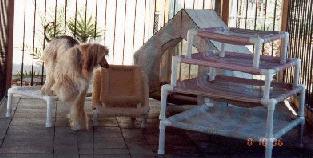 Dog Tent Top & Dog Bed Lounges - all sizes
These dog bed lounges and dog tents are available in reinforced solid blue vinyl or textylene, and outdoor multicolored tropical leaf pattern fabric, which allows water to drain for easy cleaning and disinfecting. Best of all, there is absolutely nowhere for pesky fleas or other intruders to hide in your dog bed tent!
From the smallest pet to the largest pet, we have a size for all!
Need only the dog tent top? Check the price list below.
Prices:
For the complete Dog Tent Bed prices, see the order box below.

For the complete dog bed lounge prices,

For the replacement covers for the dog lounge bed click the link.

For the dog tent tops only, click the "popup menu" in the order box below.
The ideal dog tent for use as an indoor dog bed or an outdoor dog bed! They are safe & durable dog beds!
Free Shipping
(within the continental United States)