Great Paw Haven Dog/Cat Soft Playpen
Get yours today!!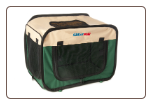 Click to enlarge image(s)
Great Paw Haven Soft Dog/Cat Playpen
$55.95 Reg.
$44.95 SALE
This Haven Soft Playpen for your dog or cat from Great Paw comes in two sizes and is available in beige/green color. The sizes include a small dog playpen and a large dog playpen.
It is quite a sturdy playpen for your dog. If you are looking for a collapsible but sturdy and soft-sided playpen, your playpen pops up and collapses in seconds.
The playpen can be collapsed by simply pushing, twisting and wrapping the attached elastic wrap. Your Great Paw Haven dog/cat playpen also functions as a portable dog crate with two zippers and one window.
Your collapsible playpen is also a portable dog/cat playpen for easy travel. Just slide the folded crate/playpen into the carrying case that is included and take the haven playpen wherever you go.
The heavy-duty mesh lining used in the construction of your Great Paw soft-sided playpen allows great visibility for your dog or cat. In addition, the mesh lining of the play yard facilitates excellent breathability.
A large velcro pocket for snacks and water is another feature of your Haven playpen which also comes with four metal stakes. This soft-sided collapsible dog/cat playpen is a sturdy dog crate that you can use indoors or outdoors.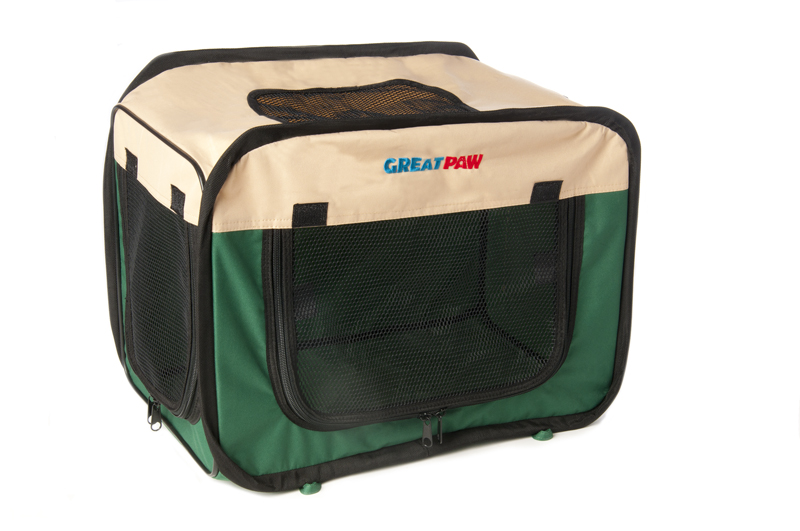 As an outdoor pet playpen or play yard the metal stakes ensure that the Great Paw Haven Soft Playpen is securely anchored to the ground.
| | |
| --- | --- |
| Size of Great Paw Haven Dog Play Pen | Dimensions & Weight of Soft Pet Play Pen |
| Small | 20"L x 13"W x 14"H; 2 lbs |
| Large | 26"L x 18"W x 19"H; 3 lbs. |
| | |
| --- | --- |
| Dimensions: | 24 1/2" x 19 1/2" x 21"; 42" x 28" x32" |
| | |
| --- | --- |
| A dog/cat playpen that pops up and collapses in seconds | |
| Durable heavy duty mesh lining allows superior visibility in your pet playpen | |
| A soft dog playpen with two zipper doors and one window | |
| Large velcro pocket stores snacks for your dog or cat in the playpen | |
| Carrying case included with your soft playpen | |
| Ground anchors and metal stakes secure your dog/cat playpen to the ground | |