Great Paw Hideaway Soft Pet Play Pen
Get yours today!!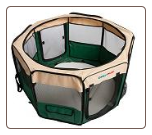 Click to enlarge image(s)
Hideaway Soft Cat/Dog Pet Playpen
$61.95 Reg.
$55.95 SALE
This is the cat playpen you've always wanted. It is a pet playpen that is suitable as a dog play pen or a cat play pen. The Great Paw Hideaway Soft Pet Play Pen is more attractive and comfortable than a metal pet play pen.
Your hideaway dog play pen is constructed from high-density canvas with a waterproof coating. It is a foldable dog play pen with roof and door that is easily kept clean. The removable top and bottom of your pet play pen are machine washable.
You will love your pet play yard. Whether at home or on the go, your dog play pen is an excellent dog indoor playpen or outdoor pet playpen.
As a portable dog playpen, don't be surprised to see your pet playpen used as an outdoor/indoor cat playpen for your cat.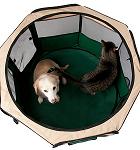 Cat and dog inside pet playpen without the roof
Reinforced high-density stitching along with sturdy wire frame enhance the durability of your pet playpen. Whether you are using this pet play pen as an outdoor dog play pen, an indoor dog play pen, a small dog playpen or a large cat playpen, the versatile mesh screen top can be zippered shut, removed completely or partially zipped.
Your portable dog playpen is equipped with two (2) large mesh screen doors and a large mesh screen top for easy access to the play pen. The mesh is durable, difficult to tear and provides superior ventilation and visibility for your dog or cat.
Set up your portable dog playpen without tools. This pet play pen collapses in seconds. Note also, that your folding dog play pen with roof and door includes a carrying case.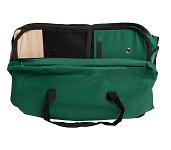 Carrying case for foldable cat / dog pet play pen
Four (4) stakes (included), secure the outdoor pet play pen to the ground.
| | | |
| --- | --- | --- |
| Size of Dog Play Pen | Dimensions & Weight of Soft Pet Play Pen | Dog Weight |
| Small | 30"L x 30"W x 17"H; 5 lbs | Up to-30 lbs. |
| Medium | 38"L x 38"W x 24"H; 7 lbs | Up to 60 lbs. |
| Large | 46"L x 46"W x 28"H; 9 lbs. | Up to 90 lbs. |
Your soft dog play pen comes with MANUFACTURER'S WARRANTY
| | |
| --- | --- |
| Small dog soft play pen: | 30"L x 30"W x 17"H |
| Medium dog soft play pen: | 38"L x 38"W x 24"H |
| Large dog soft play pen: | 46"L x 46"W x 28"H |
| | |
| --- | --- |
| Two (2) large mesh screen doors on your dog play pen | |
| Large circular mesh screen top on your dog playpen | |
| High-density canvas provides durability for your dog playpen | |
| A dog playpen that sets up and collapses in seconds | |
| Useful as indoor or outdoor dog play pen | |
| A pet playpen for your dog and cat | |
| Waterproof coating on the canvas material of your dog playpen | |
| Reinforced high-density stitching on this pet playpen | |
| Sturdy wire frame enhances durability of your dog play pen | |
| Two (2) canvas and one (1) mesh storage pockets on your dog play pen | |
| A dog pet play pen with manufacturer's warranty | |