Great Paw Intrepid Soft Pet Carrier
Great Buy!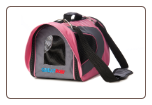 Click to enlarge image(s)
Great Paw Intrepid Soft Designer Pet Carrier
$53.95 Reg.
$35.95 SALE
This is a small designer pet dog carrier tote bag available in black or pink colors. Made from polyester, your Great Paw Intrepid Soft Pet Carrier is compact and light.
Such a cute dog carrier, your small dog carrier has many features. It has a sturdy semi-rigid frame to provide strong support to carry your pet safely. If you prefer a soft dog crate for easy travel, your soft designer pet carrier is ideal and more comfortable than a wire crate.
As a small dog carrier bag, this pet carrier hand bag is equipped with a padded carrying handle and a detachable shoulder strap. Your portable pet carrier is ideal for the comfortable travel your pet deserves.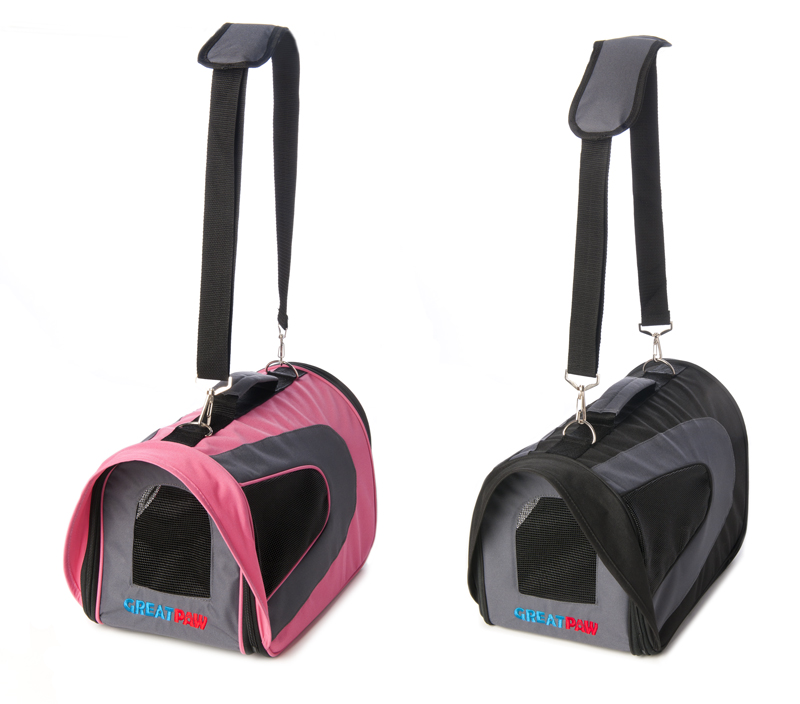 Pink and black soft dog carrier tote bag
The Great Paw Intrepid Soft Pet Carrier comes with three reinforced mesh windows for superb ventilation and visibility. Your pet can even use this small soft dog crate/tote bag as a small home anywhere in the house. External elastic pocket on the side of your designer soft pet carrier stores all your accessories.
Whether you use this small designer dog tote bag as a shoulder dog carrier bag, a dog carrier sling bag, or a soft dog crate, your cute dog carrier bag also has a convenient interior clip to secure your pet while traveling. Your dog tote bag collapses in seconds. See the images of the black and pink color options for your pet/dog travel carrier bag below.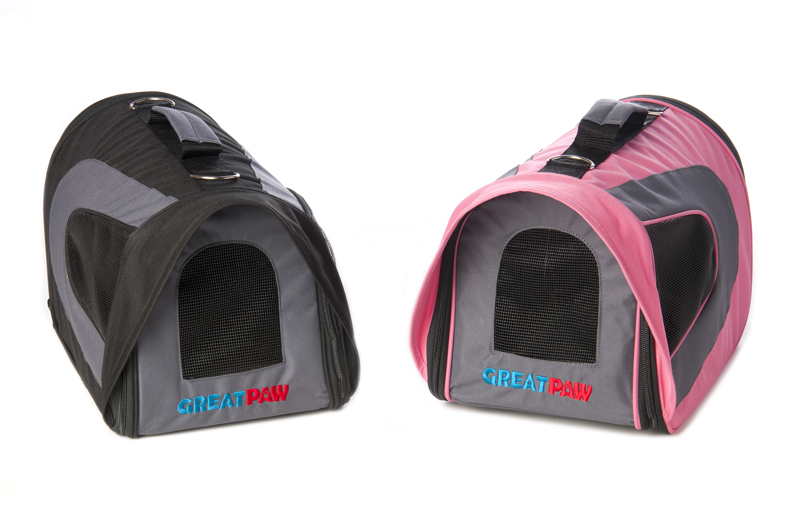 Pink and black soft dog carrier tote bag
Available in small and large size variations, the Great Paw Intrepid Soft Pet Carrier measures 9" x 9" x 14" and 10" x 10" x 18" respectively.
| | |
| --- | --- |
| Small soft pet carrier: | 9" x 9" x 14" |
| Large soft pet carrier: | 10" x 10" x 18" |
| | |
| --- | --- |
| Dog carrier bag collapses in seconds | |
| Sturdy semi-rigid frame provides strong comfort for this dog tote bag | |
| A compact and light designer dog bag | |
| Adjustable shoulder strap for dog carrier sling | |
| Cute dog bag carrier with 3 reinforced mesh windows | |
| Elastic pocket on side of the dog hand bag | |
| Another Great Paw dog carrier with interior clip keeps dog secure | |
| Padded carrying handle | |
| Portable pet carrier | |