Great Paw Villa Soft Dog Crate
Fantastic!!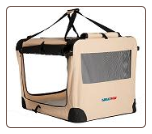 Click to enlarge image(s)
Great Paw Villa Soft Dog Crate
$66.95 Reg.
$55.95 SALE
FREE CUSTOM-FIT SHERPA FLEECE FOAM PET MAT INCLUDED
The one-piece design of this Great Paw Villa Soft Dog crate is loved by every dog owner. Your soft dog crate is an ideal place for your pet to chill out and the extra-large mesh screen doors and windows on this collapsible soft dog crate provide great visibility and ventilation.
Your soft folding dog crate can be quickly set up without any tools. Although the frame of your soft portable dog crate is constructed from 19mm thick rigid steel, it is a collapsible dog crate that's disassembled in seconds.
Once your soft-sided dog crate is collapsed, it snaps into a compact unit that is secured with a buckle. Your collapsed dog crate is also fitted with a padded shoulder strap for a comfortable carry.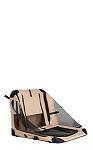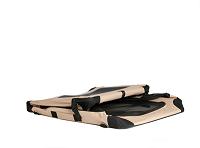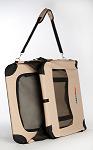 Folded collapsed & buckled soft dog crate w/padded shoulder strap
Your dog has easy access to its soft-sided dog crate. Your portable soft dog crate has two (2) large screen mesh doors and a top entry. Heavy-duty zippers securely close the doors and top entry of your soft-sided dog crate.
Half of the top entry consists of high-density canvas and the other half is made with mesh. All the mesh on this soft collapsible dog crate is durable and difficult to tear, while the coating on the canvas is waterproofed.
The soft fabric on your dog crate is easily removed and is machine washable. Your soft dog crate is also great for cats.
FREE CUSTOM-FIT SHERPA FLEECE FOAM PET MAT INCLUDED
| | | | |
| --- | --- | --- | --- |
| Size | Dimensions & Weight | Dog Weight | Dog Breed Recommendation |
| Small | 24"L x 17"W x 17"H; 7 lbs | 1-25 lbs. | Border Terrier, Boston Terrier, Jack Russell Terrier, Miniature Daschund, Maltese, Miniature Poodle, Tibatan Spaniel, Yorkshire Terrier, and other dogs of siimilar size |
| Medium | 32"L x 23"W x 23"H; 9 lbs | 21-40 lbs. | Cocker Spaniel, Daschund, French Bulldog, King Charles Spaniel, Miniature Pinscher, Miniature Schnauzer, Shetland Sheepdog, Welsh Terrier, and other dogs of similar size |
| Large | 40"L x 27"W x 27"H; 14 lbs. | 41-80 lbs. | Basset Hound, Belgian Sheepdog, Bull Terrier, Bulldog, Chinese Shar-Pei, English Setter, English Springer Spaniel, Harrier, Schnauzer, Welsh Corgi and other dogs of similar size |
Your soft dog crate comes with
LIMITED MANUFACTURER'S WARRANTY
| | |
| --- | --- |
| Small Villa Dog Crate: | 24"L x 17"W x 17"H |
| Medium Villa Dog Crate: | 32"L x 23"W x 23"H |
| Large Cilla Dog Crate: | 40"L x 27"W x 27"H |
| | |
| --- | --- |
| Two (2) large mesh screen doors on your soft dog crate | |
| Two (2) extra large mesh screen windows on your portable dog crate | |
| Half-canvas, half-mesh top entry on your soft collapsible dog crate | |
| Padded shoulder strap to comfortably carry your dog doft crate | |
| Waterproof coating on the canvas material of your soft dog crate | |
| Rigid steel frame provides stability and durability to your collapsible dog crate | |