Designer Abode Soft Dog Crate
Get Yours Now!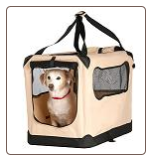 Click to enlarge image(s)
$66.95 Reg.
$55.97 SALE
Designer Abode Soft Dog Crate
FREE CUSTOM-FIT SHERPA FLEECE FOAM PET MAT INCLUDED
Your dog will enjoy a quiet rest in this portable soft dog crate. It is a dog crate suitable for small or large dogs up to 70 lbs. Made from durable and machine-washable material, your designer Abode Soft Dog Crate features an extra thick steel frame.
The sturdy steel frame of your soft dog crate is thicker than most other soft pet crates while the rounded and reinforced corners of your dog crate prevents snags and increase durability.
The mesh screen door and windows on the dog crate allows excellent visibility. Your collapsible soft dog crate sets up and collapses in seconds.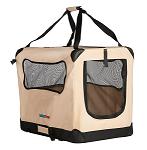 Soft sided portable folding and collapsible beige dog crate with mesh screen door and windows
Heavy-duty zippers on this folding dog crate securely close the mesh screen front door and the top entry. The mesh on this dog crate is durable and difficult to tear.
Perfect for home or travel, your portable dog crate comes with padded shoulder strap along with storage pockets on the back of this dog travel crate and the sherpa mat in the dog crate is machine washable.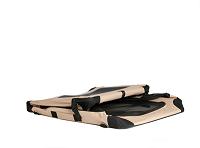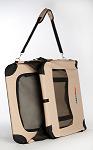 Folding collapsible soft sided dog travel crate w/ padded shoulder strap
See also our small puppy training crate.
| | | | |
| --- | --- | --- | --- |
| Size | Dimensions & Weight | Dog Weight | Dog Breed Recommendation |
| Small | 22"L x 16"W x 16"H; 6 lbs | 1-10 lbs. | Boston Terrier, Jack Russell Terrier, Maltese, Yorkshire Terrier, Chihuahua, Papillon, Pomeranian, Pug, Shih Tzu, and dogs of similar size |
| Medium | 28"L x 18"W x 22"H; 8 lbs | 11-25 lbs.. | Border Terrier, Boston Terrier, Jack Russell Terrier, Tibetian Spaniel, MiniatureDaschund, Maltese, Miniature Poodle, Yorkshire Terrier, and dogs of similar size |
| Large | 32"L x 22"W x 24"H; 11 lbs. | 26-40 lbs. | Cocker Spaniel, Daschund, French Bulldog, King Charles Spaniel, Miniature Pinscher, Shetland Sheepdog, Welsh Terrier, and dogs of similar size |
| Extra Large | 35"L x 24"W x 28"H; 13 lbs. | 41-70 lbs. | Basset Hound, Belgian Sheepdog, Bull Terrier, Bulldog, Chinese Shar-Pei, English Setter, English Springer Spaniel, Harrier, Schnauzer, Welsh Corgi and dogs of similar size |
Your soft dog crate comes with
LIMITED MANUFACTURER'S WARRANTY
| | |
| --- | --- |
| Small Soft Dog Crate: | 22"L x 16"W x 16"H |
| Medium Soft Dog Crate: | 28"L x 18"W x 22"H |
| Large Soft Dog Crate: | 32"L x 22"W x 24"H |
| Extra Large Soft Dog Crate: | 35:L x 24"W x 28"H |
| | |
| --- | --- |
| Sturdy steel frame for stability of your soft dog crate | |
| Machine washable & removable polyester crate material | |
| One-piece design soft crate sets up and collapses in seconds | |
| (3) mesh screen windows on your collapsible dog crate for excellent ventilation and visibility | |
| (2) convennient pockets on this portable dog crate for accessories | |
| Top entry flap of your dog soft crate is canvas with waterproof coating | |
| Padded shoulder strap for carrying your soft collapsible dog crate | |