Designer Cat Dog Stroller Carrier
Gotta have one now!!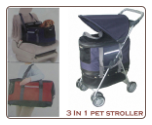 Click to enlarge image(s)
$99.97
Designer Cat / Dog Stroller Carrier
A Superbly Designed 3 in 1 Pet Stroller Carrier with Wheels
The images above (click to enlarge) show the various uses of this 3 in 1 pet stroller carrier. Whether your primary use for your pet stroller is a pet carrier for cats or a stroller for dogs, you will love the options available with this rolling pet dog carrier with wheels.
In addition to the pet stroller, you can use this pet carrier with wheels as a dog carrier bag or as a dog car seat. Whenever the need arises, you can easily disassemble the pet stroller and convert it to a trendy dog carrier bag or the dog car seat.
To assemble your 3 in 1 pet stroller, there are detailed assembly pictures and instructions included in the package. Once assembled, the many features on your pet stroller carrier will be evident.
Navy blue and red 3 in 1 pet stroller carrier
For easy storage, the frame of your lightweight pet carrier with wheels folds very easily in seconds. You will also notice the adjustable shoulder straps for the dog carrier bag and the interior cover of your 3 in 1 pet stroller is zippered and easily removable.
Your pet stroller carrier has mesh windows which keep insects out and provide excellent air flow and visibility. Used as a cat stroller or dog stroller, these pet carriers have a large storage basket as well as cup holders.
These trendy designer dog travel carriers are the perfect way to transport your well-traveled dog. The dog carrier bag is sturdy and the dog seat is a comfortable option to travel with your pet dog. So pack all the toys, treats, and water bottles in the storage basket and enjoy your 3 in 1 pet stroller carrier.
It's a fashionable, soft, and portable designer dog stroller carrier with a soft inside and carries your pet up to 25 lbs.
3 in 1 Pet stroller measurement: 23"(L) x 18"(W) x 37"(H)
Dog carrier bag measurements: 20"(L) x 12"(W) x 12"(H)
This is a cat dog stroller/pet carrier that holds pets up to 25lbs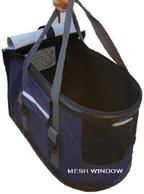 Your 3 in 1 pet stroller can be used as a dog crate carrier or a dog car seat

CURRENTLY OUT OF STOCK
| | |
| --- | --- |
| 3 in 1pet stroller : | 23"(L) x 18"(W) x 37"(H) |
| Dog crate carrier bag: | 20"(L) x 12"(W) x 12"(H) |
| | |
| --- | --- |
| 3 in 1 pet stroller includes dog carrier bag and dog car seat | You have three options to transport your beloved pet |
| A cat dog pet stroller with mesh windows | Keeps out insects and provide great ventilation |
| 3 in 1 pet stroller with a lightweight frame | Easy to assemble, disassemble and to carry |
| Large storage basket on this dog stroller carrier | Holds your treats, toys and water bottle |
| Adjustable shoulder straps for the dog carrier bag | Comfortably carry your dog bag on your shoulder |
| A pet carrier on wheels to carry up to 25 lbs | Easier to transport heavier dogs |
| Removable interior cover on the stroller for dogs | Option to use the cover or leave the top open |