Designer Dog Cat Carrier on Wheels
Get yours today!!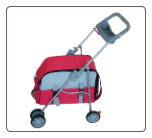 Click to enlarge image(s)
$89.97
Designer Cat / Dog Carrier on Wheels
An Airline Approved 3 in 1
Pet Stroller Carrier

Looking for a pet carrier on wheels? Look no further. Pet owners are so excited about this multi-purpose 3 in 1 pet stroller carrier because not only is it useful as a pet stroller, your designer dog stroller carrier is easily converted to a dog hand bag or car seat.
It is quite a strong pet carrier for dogs (up to 25 lbs.) and it also doubles as a cat carrier. So whether you need a dog stroller or a cat stroller, this airline approved pet carrier with wheels can be used as a doggie stroller, a cat stroller or a dog car seat.
Available as a pink, red or yellow pet carrier , these designer pet carriers on wheels weigh only 13 lbs. and are easy to push. Your 3 in 1 pet stroller carrier has a comfortable 37 inch handle height while most dog or cat strollers are only 34 inches.
For safety, your wheeled pet carriers are equipped with parking brakes on the rear wheels. The lightweight rust-resistant steel frame folds easily for storage while the fabric on your pet carriers on wheels is made from water-resistant and durable nylon.
The cage of this dog carrier is easily removed and quickly converted. A pad holder can be placed in the bottom of the cat dog stroller to absorb any pet accidents. See the images of the dog carrier bag, the dog car seat and the pad below.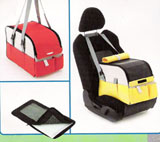 Cat dog stroller carrier converted to dog carrier bag and dog car seat
The adjustable straps on the dog carrier bag come with a swivel snap that's sewn in and allows a hook-up to the collar of your dog or cat. There is also a D-ring on the pet carrier for attaching more pets.
Other features of your pet carrier on wheels include 2 cup holders with an organizer in between that's just perfect for treats or placement of your car keys. There are nine pockets located around the edge of your cat dog stroller carrier so you can store many items.
These pet carriers on wheels have two layer covers giving you the option of using them either open, with the screen or completely closed. So make your choice of the pink, red or yellow airline approved wheeled pet carrier and travel with your dog in style.
Wheeled Cat Dog Stroller: 32"L x 15"W x 38"H.
Dog Cage: 24"L x 13"W x 14"H
This cat/dog pet carrier holds pets up to 25lbs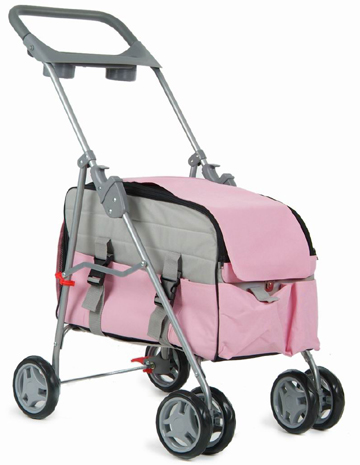 Pink 3 in 1 cat dog stroller on wheels

This item is currently out of stock
| | |
| --- | --- |
| 3 in 1 pet stroller: | 32"(L) x 15" (W)x 38"(H) |
| Dog Cage: | 24"(L) x 13"(W) x 14"(H) |
| | |
| --- | --- |
| An airline approved pet carrier | No problem travelling by plane |
| Lightweight frame | Folds easily and quickly |
| Rear wheel parking brakes on this cat stroller | Secure safety feature so the stroller does not roll away |
| 2 cup holders and nine pockets around the pet stroller carrier | You can store accessories for your dog or yourself |
| 3 in 1 pet stroller | Converts from stroller to dog bag or dog seat so easily |
| Rust-resistant steel frame for your pet carrier on wheels | Will last a long time without rusting |
| Two layer covers | Option to use them open with the screen or closed |
| Comfortable 37 inch handle height | Better than most pet strollers |
| A dog carrier to hold up to 25 lbs. | Strong and sturdy carrier |
| Water-resistant nylon fabric for your doggie stroller | Durable fabric protects your pet in wet weather |
| D-ring on the carrier | You can attach more pets to the stroller |