$75.00 Reg.
$69.97 SALE
Cantilever Dog Double Diner

So you want an elegantly beautiful dog double diner with a modern design that complements your home decor? When you purchase this cantilever raised double dog diner, you will be so impressed with all its features.
The architectural design is very appealing and similar to a tradition used in major construction projects. It is an unusual and unique dog feeder that provides a great option to feed your beloved pet its food and water. The frame of your elevated diner is made from heavy-duty recycled steel.

The non-skid plastic pads on the bottom of your cantilever diner ensure stability and help to keep the pet feeding station clean. Your dog bowl is an elevated dog feeder, also useful as a cat bowl feeder, that places your pet's health equal to your requirement for function and design.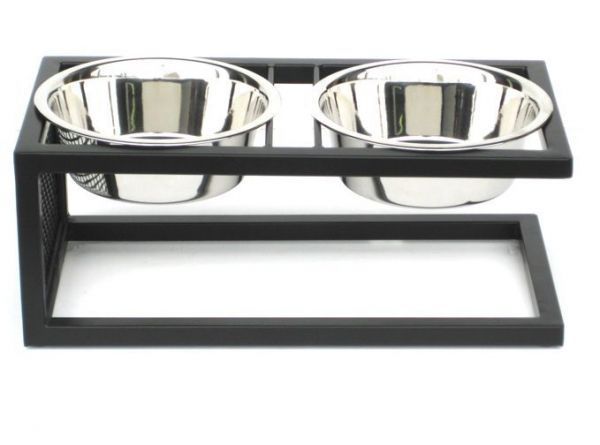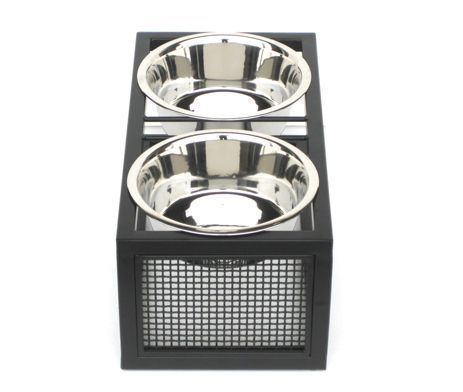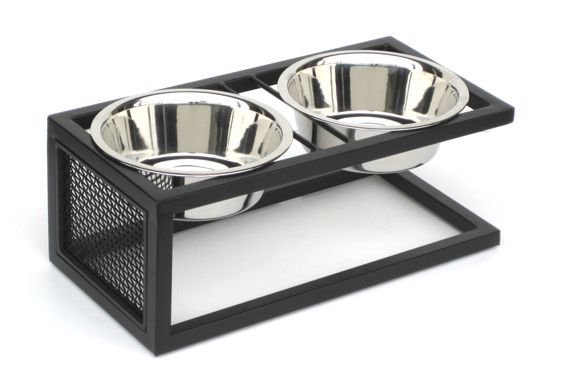 Different viewing angles of the Cantilever Double Dog Diner
With your raised double dog feeder, pets tend not to gulp their food, which contributes to the medical condition called bloat in larger dogs. If you have tall dogs, or puppies that suffer from megaesophagus, or pets with arthritic conditions, then you must get a raised dog feeder.
The large cantilever double dog feeder is a good orthopedic dog feeder. Animal doctors do recommend elevated dog diners because they reduce the stress that dogs and cats experience when using conventional floor-level feeding dish or cat bowls.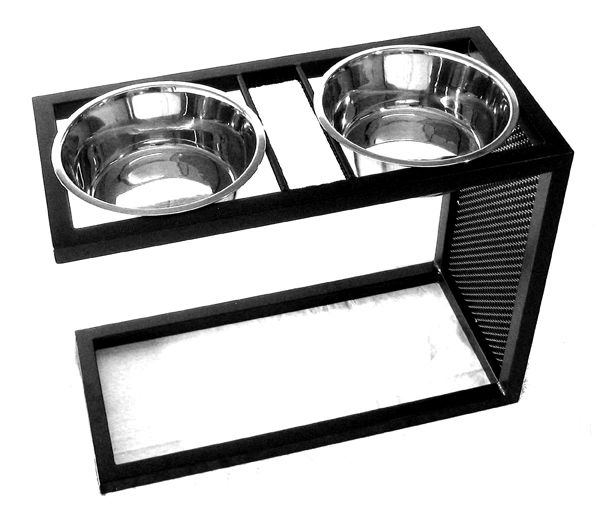 XLarge Cantilever Double Dog Diner
With the raised dog bowls, water cannot collect under the dog bowl and form unsanitary mold and mildew. In addition, your pet will be less tempted to push this double elevated dog bowl around the floor. The dog bowl stand is available in a black powder-coated matte finish.
You can also select the type of bowl best suited for your own household ambiance, All sizes of this cantilever dog diner are available with stainless steel bowls, while the small and medium sizes are also presented with ceramic bowl options. Both the stainless steel and the ceramic dog bowls are removable and easily cleaned.
Colored ceramic dog bowls for the raised dog diner.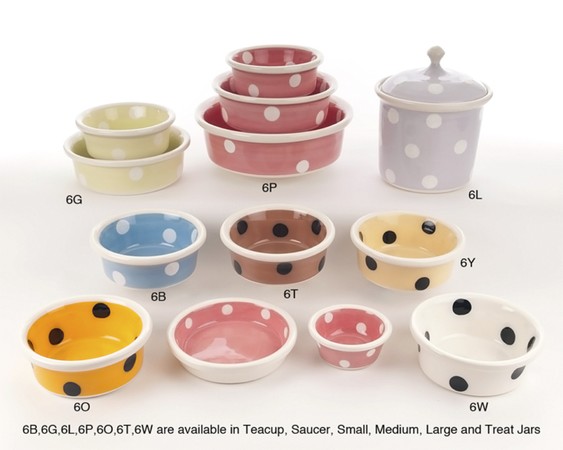 Various dog bowl colors for the Cantilever double dog diner
Small dog diner or cat bowl: 5" high, 1 qt. bowl
Medium elevated dog diner: 7" high, 2 qts. bowl
Large elevated dog feeder: 10" high, 3qts. bowl
Xlarge dog diner is raised 18" high, 3 qts. bowl

Now pet owners with stiff muscles and sore joints will never have to bend all the way down to pick up the dog bowl!!
Customers who bought this dog diner also bought a dog diner placemat.