Designer Dog Velvet Skirt Dress
Buy yours now!!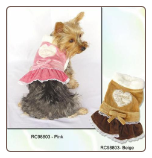 Click to enlarge image(s)
Designer Velvet Dog Skirt Dress
CLEARANCE


You are going to love this dog skirt dress. Whether you want a poodle dog skirt or a big dog skirt, you expectations will be surpassed. This is a designer dog dress to fit very small dogs and large dogs.

When you dress up your dog in this designer dog skirt dress you know that your dog is comfortably clothed. This skirt dress for your dog comes in two colors and five sizes.

Some dog owners even like to dress up their big dog in a short skirt. It is a dog dress up skirt that's great for any occasion. Made of velvet fabric, your skirt dress is complete with a lace trim around the edges of the dress.

So why not let your big dog wear a mini short dog dress skirt and enjoy the evening out. It is such a lovely dog skirt dress that is lined with poly fur around the neck.

No need to wait for any special occasion to dress up your dog with its velvet fabric, poly fur neck and lace trim dog skirt dress!!

Available as a pink or beige velvet dog skirt, your designer dog dress commands attention.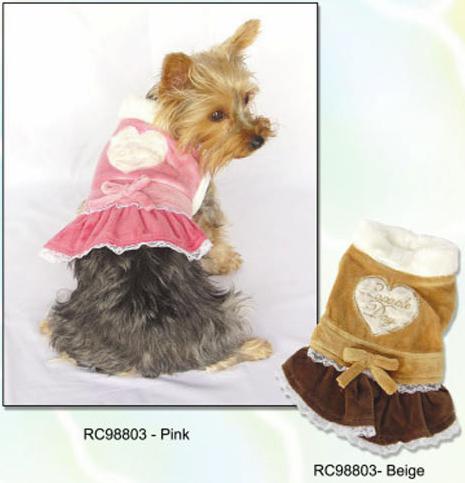 BEIGE DOG VELVET SKIRT DRESS SOLD OUT
Determine the size for your dog skirt dress, from the dog dress size chart below.
SOLD OUT
| | | | | |
| --- | --- | --- | --- | --- |
| Designer Dog Dress | Length (inches) | Girth (inches) | Neck (inches) | Weight (pounds) |
| Extra small dog skirt dress | 7.9 | 12.0 | 7.9 | 1.7 - 4.4 |
| Small dog skirt dress | 9.8 | 4.0 | 9.5 | 4.4 - 7.0 |
| edium dog skirt dress | 11.8 | 16.5 | 11.0 | 7.0 - 10.5 |
| Large dog skirt dress | 13.8 | 18.9 | 12.6 | 10.5 - 15.4 |
| | |
| --- | --- |
| A dog skirt dress made with velvet fabric | |
| Poly fur around the neck of your dog skirt dress | |
| Lace trim around the edges of your dog dress | |