Pet Nest Round Orthopedic Foam Dog Bed
Get yours now!!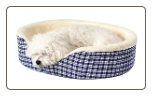 Click to enlarge image(s)
Pet Nest Round Orthopedic Foam Dog Bed
$25.95
This round foam dog bed is made using only high density foam manufactured with the CFC free method (no chloro- fluorocarbons). As the first orthopedic pet nest bed available, this popular style dog bed offers even more comfort.
Only medical grade, 2" thick orthopedic convoluted "egg crate" foam is used in the bottom of your Pet Nest Dog Bed, giving it more padding to disperse and reduce pressure.
Your dog will experience additional comfort on its round orthopedic foam dog bed. The foam is entirely hand washable with mild soap and warm water. The dog bed cover is a cotton-polyester blend and it has an elasticized bottom for easy removal.
A neat indoor orthopedic dog bed, the Pet Nest Foam Dog Bed is a washable and dryable dog bed.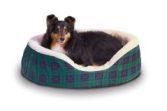 Pet Nest Paw Print Foam Orthopedic Dog Bed
The filler in your foam orthopedic dog bed is made of 11/2" thick flat foam walls. There are three available sizes for this round orthopedic foam dog bed: small dog bed, medium dog bed and large dog bed.
Your Pet Nest round orthopedic dog bed is available in assorted colors.
Please Note: These dog beds are hand made. While every effort is made to keep the sizes of the dog beds exact, there may be slight variations.

CURRENTLY OUT OF STOCK
| | |
| --- | --- |
| Small orthopedic dog bed: | 18" x13" x 4" |
| Medium orthopedic dog bed: | 25" x 18" x 5" |
| Large orthopedic dog bed: | 33" x 25" x 5" |
| | |
| --- | --- |
| The filler for your foam dog bed is thick flat foam walls with convoluted foam bottom | |
| The filler of your orthopedic dog bed is hand washable | |
| The round dog bed cover is a cotton-polyester blend | |
| Elasticized bottom on this round dog bed cover | |
| Your orthopedic dog bed cover is washable and dryable | |