Dog Kennel Mat
Get one today!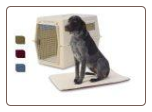 Click to enlarge image(s)
Dog Kennel Mat
$21.75
FREE Shipping!!
This dog kennel mat is another quality product from Caddis. It is available in either 1" or 2" thick foam with an imitation lambskin top and packcloth bottom to keep your dog comfortable, warm and dry while traveling in a kennel.
The dog kennel mat should be an essential component in any dog travel supply for all dog owners. Our dog blankets and dog car seat covers should also be included in your dog travel supply.
Since dogs are frequently as mobile as their owners are, we believe that they should feel safe and comfortable, no matter where they are. The cover of our dog kennel mat is zippered so the foam and the cover can be washed separately.
The specifications of your 1 inch or 2 inches thick dog kennel mat is detailed under the order box below.
Free Shipping!!
(within the continental United States)
| | |
| --- | --- |
| 1 inch thick: | 16" x 10"; 19" x 10"; 20" x 13"; 22" x 15"; 26" x 16" and 28" x 19" |
| 2 inches thick: | 33" x 20"; 35" x 22"; 40" x 26" and 46" x 28" |
| | |
| --- | --- |
| One or two inch thick foam with an imitation lambskin top and packcloth bottom | |
| The cover is zippered so the foam and cover can be washed separately. | |