Loft Pet Dog Steps
A Great Buy!!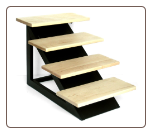 Click to enlarge image(s)
Loft Pet Dog Steps
$220.00 Reg.
$195.95 SALE
These wooden pet steps are sturdy and designed to help your pet dog to climb up or down safely to its destination. Whether your pet is injured or healthy, your stairs for pets are firm enough to support small or large dogs and cats.
Notice also that the step risers of your pet stair steps are evenly spaced and wide enough so your pet dog is unlikely to fall off the steps.
Your dog pet steps are made of real maple wood, frosted with non-slip sand finish and the dog steps are mounted on a sleek heavy duty, wrought iron black base frame.
The design of your wooden pet stair steps with its wrought iron base presents sturdiness and provides a pleasant view.
| | |
| --- | --- |
| Pet dog steps side view | Pet dog steps front view |
Your black wooden pet dog steps are also fitted with non-skid plastic tips under the base.
This is the ideal choice for your cat or pet dog steps. If your pet suffers from arthritis, or hip dysplasia and can no longer jump, the loft pet dog steps are almost indispensable.
Help your cat or dog climb into its master's bed by using the cat/dog steps as cat/dog bed steps. If you have an elevated dog bed, the dog stair steps are also excellent dog bed steps for an easy climb in and out of the bed.
The black wooden dog pet steps are very useful as both indoor pet steps and outdoor pet steps. These are also fantastic cat/dog training steps.
Cleaning your dog pet stair steps is easy. Simply wipe the wooden pet steps with a damp cloth to remove dust mites and allergens.
Your maple wooden Loft Pet Steps with black wrought iron base are easily assembled with screws (directions included).
Dog Steps Measurements: 25" x 18" x 19"
Weight of dog steps: 38 lbs.
| | |
| --- | --- |
| Dimensions of dog steps: | 26.5" x 18" x 19" |
| Weight of pet dog steps: | 38 lbs. |
| | |
| --- | --- |
| Pet steps made from real maple wood | |
| Pet steps mounted on black wrought iron base | |
| Dog steps clean easily with damp cloth | |
| Dog steps useful for dog exercise and training | |