Designer Heart Shaped Dog Bed
Get Yours Now!

Click to enlarge image(s)
Designer Heart Shaped Dog Bed
This designer pet dog bed with heart is an extraordinarily comfortable small designer dog bed built to accommodate your small dog. It is a heart shaped dog bed available in four colors (blue, brown, gold and pink).
The measurement of your designer heart shaped dog bed is 19". If you are looking for a small dog bed that is ultra light weight, this dog bed with heart is a great choice.
What's more, your heart dog bed is so inviting, your dog will enjoy the comforting feel of the premium quality plush polyester fabric.
Give your dog this heart shaped designer dog bed and create that special bond. It is meant to be an indoor dog bed.
Our small designer dog bed is inner filled with polyurethane.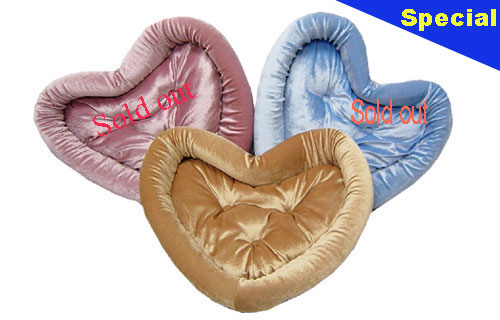 Designer Heart Shaped Dog Bed - pink, blue, brown
SOLD OUT