Emperor Rings Doorway Dog Gate
Buy your dog gate now!!
Click to enlarge image(s)

Emperor Rings Dog Gate
$167.97 Reg.

$159.97 SALE

Here it is!!! The Emperor Rings Dog Gate satisfies your need for a sturdy dog gate that fits your doorway or your hallway.The image above represents the small emperor rings doorway dog gate and the images below show the larger emperor rings hallway dog gates.
These are pressure mounted dog gates with a simple mission style design. They are emboldened with ornamental rings and they make a great selection for your beloved pet dog.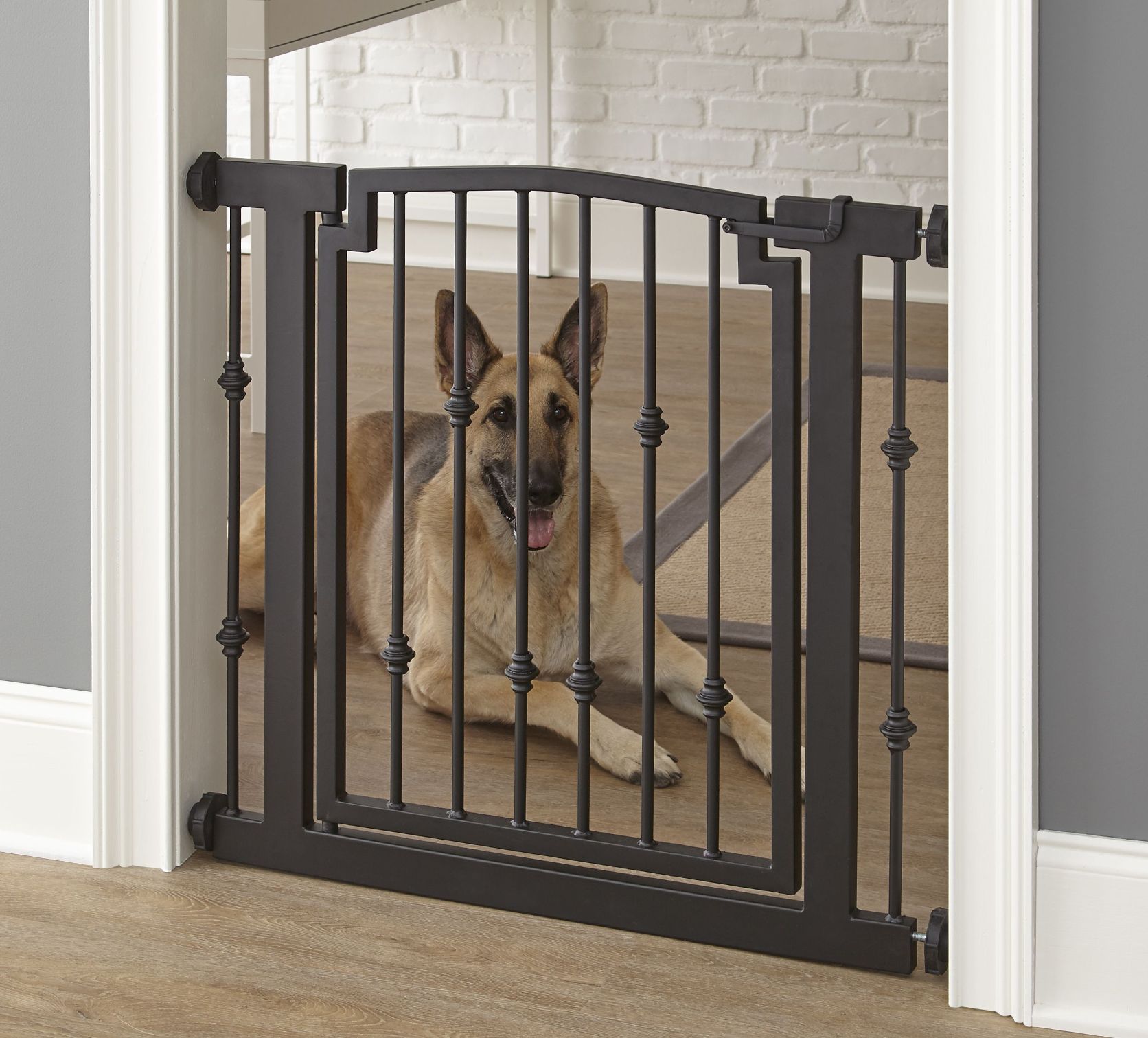 Installation of this pressure mounted dog gate is very easy and requires no drilling.
Large Expandable Black & Mocha Emperor Rings Hallway Dog Gate
These dog gates are adjustable. The small doorway dog gate can be expanded up to 34 inches, and the hallway dog gates are easily expanded into extra wide dog gates up to 40 inches wide.
Whether you want a dog gate for your doorway or the hallway, these pet dog gates are simply ideal and elegant. The small dog gate weighs 23 lbs, and the extra wide pet dog gate weighs 28 lbs.
They small and large Emperor Rings dog gate are both 32 inches tall while the XL hallway dog gate is 42" tall. The spacing between the bars on your dog gate is 2 3/8 inches. N.B. When the dog gate is fully extended, the spaces can reach 4".
The measurements for your dog gate are listed below the order box."
| | |
| --- | --- |
| Weight of small doorway dog gate: | 23 lbs |
| Weight of large hallway dog gate: | 28 lbs |
| Height of small & large dog gates: | 32 inches |
| Height of XL hallway dog gate | 42 inches |
| Distance between bars on the doorgate: | 2 3/8 inches |
| Width of small dog gate: | 28 to 34 inches |
| Width of large & XL dog gate: | 34 to 40 inches |
| | |
| --- | --- |
| Ornamental rings on the bars of your dog gate | Shows the elegance of the design |
| Your dog gates are 32 inches tall | Dog will not jump over the gate |
| Adjustable width for each dog gate | Fits most doorways and hallways |
| Pressure mounted dog gates | Easy installation requires no drilling |