Backyard Outdoor Dog Gate
Woof! Woof!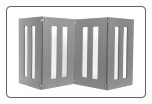 Click to enlarge image(s)
$159.97
Backyard Outdoor Dog Gate

Check out this wide free standing dog gate - a very effective pet barrier gate to restrict your pet from specific outdoor areas. It is an expandable outdoor dog gate that contains your pet very well.
Do you have large dogs and are looking for a high dog gate? These tall backyard dog gates are available in 24" and 32" in height. They are portable pet gates to be placed anywhere outdoors.
Customers love the accordion style of this expandable freestanding pet gate. You can select the 4 panel wide pet barrier dog gate with a span of 3.5 feet or the 6 panel extra wide dog gate that spans 5 feet.
With a weight range between 13 lbs to 26 lbs., your backyard outdoor dog gate will certainly complement your other outdoor settings while performing its role of an excellent dog barrier gate.
It is a versatile outdoor pet gate with 360 degree hinges that allow your pet gate to be folded in any direction. Your accordion dog gate folds up in seconds for easy storage.
| | | |
| --- | --- | --- |
| 4 panel accordion backyard outdoor dog gate - 3.5 foot span | 4 panel "backyard dog" outdoor pet gate - versatile configuration | Folded 4 panel outdoor backyard dog gate - closed accordion |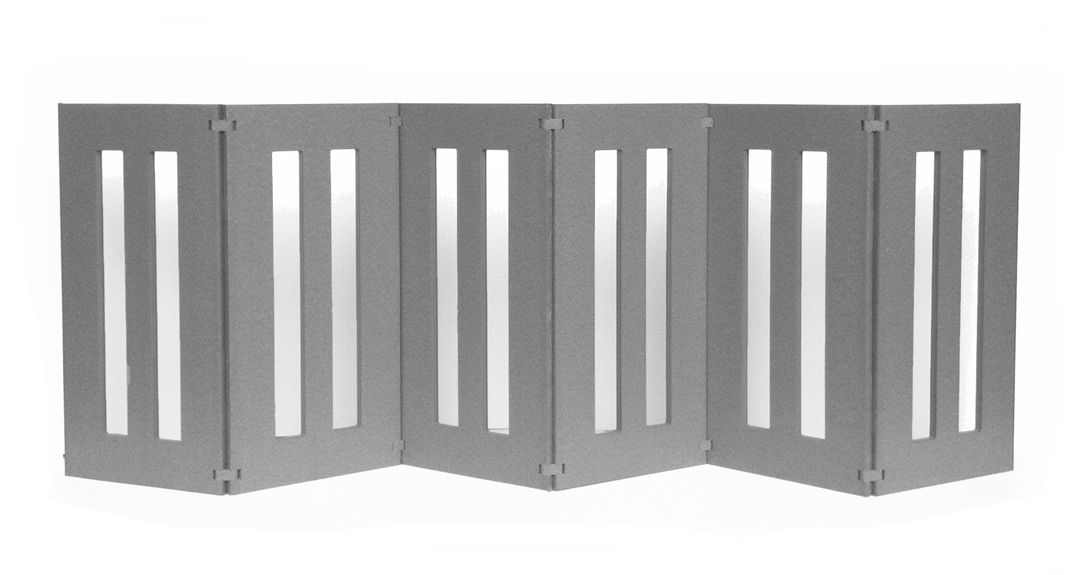 6 panel"Backyard" extra wide accordion outdoor dog barrier gate - 5 feet span
Environmentally conscious pet owners are excited that this large freestanding pet barrier outdoor dog gate is an eco-friendly pet dog gate. It is a tall dog.gate that is made from 100% recycled plastic. Your backyard outdoor dog gate is also made in USA.
| | | | |
| --- | --- | --- | --- |
| Panels | Height | Span | Weight |
| Four | 24 inches | 3.5 feet | 13 lbs |
| Four | 32 inches | 3.5 feet | 17 lbs |
| Six | 24 inches | 5 feet | 18 lbs |
| Six | 32 inches | 5 feet | 26 lbs |
| | |
| --- | --- |
| Four panels: | 24" tall x 3.5' span x 13 lbs |
| Four panels: | 32" tall x 3.5' span x 17 lbs |
| Six panels: | 24" tall x 5' span x 18 lbs |
| Six panels: | 32" tall x 5' span x 26 lbs |
| | |
| --- | --- |
| An effective dog barrier for large dogs | Easily cordon and isolate specific areas |
| 360 degrees hinges on this dog gate | Allow dog gate to be folded in any direction |
| Made from 100% recycled plastic | Ecofriendly dog gate |
| 4 panel wide dog gate has a span of 3.5 feet | Helps to cover a large area |
| 6 panel extra wide dog barrier gate spans 5 feet | Restricts an even larger area |
| Accordion style pet gate | Folds easily for storage |
| Available as 24' tall dog gates or 32" tall dog gates | Option to choose a gate according to the size of your dog |