Designer Great Paw Snuzzle Bolster Dog Bed
Get Yours Now!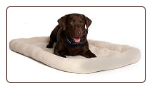 Click to enlarge image(s)
$33.95 Reg.
$27.95 SALE
Great Paw Designer Bolster Dog Bed
Your Great Paw Snuzzle Bolster Pet Dog Bed is available in five sizes. Whether you need a small dog bolster bed or an xxl bolster dog bed, your dog bolster bed is comfortable and makes a cozy resting place.
It is a portbale dog bolster bed that's perfect as a crate bolster dog bed. You can use your Great Paw Designer Snuzzle Bolster Dog Bed in your dog kennel, or dog crate carrier whenever your pet needs a cozy resting place. The cozy padded Sherpa fleece pet bed is dimensioned to fit most dog crates and carriers.
| | | |
| --- | --- | --- |
| Great Paw Bolster Dog Bed in metal crate/carrier | Great Paw Bolster dog beds | Great Paw Bolster dog bed in soft dog crate |
The surrounding overstuffed bolster dog bed encourages natural animal nesting instincts and makes a great pillow dog bed. The ultra-dense "sheepskin" fabric in this bolster dog bed stays cool in the summer and retains your pet's body heat in the cooler months.
Dogs sleep about 13 hours per day. Therefore, the quality of your bolster pet dog bed must be absolutely superb. Used as an indoor dog bed, your designer bolster dog bed ensures that your dog has a comfortable rest every time.
Cats love this Snuzzle bolster bed too!! Your cat/dog bed is double-stitched for enhanced durability and the padded base holds the shape longer while providing added cushion. This entire cat/dog bolster bed is machine washable.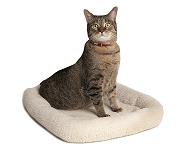 Bolster cat/dog bed
Your cat/dog bolster bed has a convenient handle for hanging on the wall.
Product Size

Dimensions & Weight
(Height includes bolster)

Pet Weight Recommendation

Breed Recommendations

Small

24"L x 18"W x 3"H; 2 lbs.

1 - 25 lbs

Yorkshire Terrier, Chihuahua, Pomeranian, Maltese, Papillon, Shih Tzu, Pug, Poodle, Boston Terrier, Dachshund, Miniature Pincher, French Bulldog, Lhasa Apso, Chinese Crested, other dogs of similar size, and most cats

Medium

29"L x 21"W x 3"H; 2 lbs.

26 - 40 lbs

Beagle, Shetland Sheepdog, Cavalier King Charles, Miniature Schnauzer, Scottish Terrier, Cairn Terrier, and other dogs of similar size

Large

36"L x 24"W x 3.5"H; 2 lbs.

41 - 70 lbs

American Staffordshire Terrier, Boxer, Bull Dog, Bull Terrier, Wheaten Terrier, Shar-Pei, Cocker Spaniel, Welsh Corgi, Bassett Hound, English Springer Spaniel, Australian Shepherd, and other dogs of similar size

Extra Large

41"L x 28"W x 4"H; 2 lbs.

71 - 90 lbs

Golden Retriever, Labrador Retriever, Rottweiler, German Shepherd, Siberian Husky, Doberman Pinscher, Collie, Vizsla, Rhodesian Ridgeback, Airedale, Standard Poodle, Chow Chow, Border Collie, and other dogs of similar size

Giant

47"L x 30"W x 4"H; 4 lbs.

91 - 180 lbs

Alaskan Malamute, Bernese Mountain Dog, Great Dane, Old English Sheepdog, St. Bernard, Weirmaraner, Bull Mastiff, and other dogs of similar size
| | |
| --- | --- |
| Small Bolster Dog Bed: | 24"Lx18"Wx3"H; 2 lbs |
| Medium Bolster Dog Bed: | 29"Lx21"Wx3"H; 2 lbs |
| Large Bolster Dog Bed: | 36"Lx24"Wx3.5"H; 2 lbs |
| Extra Large Bolster Dog Bed: | 41"Lx28"Wx4"H; 2 lbs |
| Giant Bolster Dog Bed: | 47"Lx30"Wx4"H; 4 lbs |
| | |
| --- | --- |
| Machine washable bolster dog bed | |
| Available in five sizes from small to xxl bolster dog bed | |
| Cozy padded Sherpa fleece bolster dog bed | |
| A pillow dog bed that fits most dog crates and carriers | |
| Ultra-dense sherpa "sheepskin" fabric for your indoor cat/dog bed | |
| Convenient handle to hang your bolster cat/dog bed on wall | |