Dog Blanket Comforter
Buy yours now!!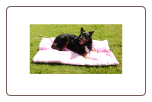 Click to enlarge image(s)
$30.70 Reg.
$25.85 SALE
Dog Blanket Comforter
Your dog blanket is an excellent dog comforter. It is an ultra plush dog comforter available in three sizes. Useful as a dog warming blanket, the dog comforter is essential for any dog.
Many dog owners like to see their dog sleeping on a blanket while otheres make it a part of their dog comforter bedding.
Whatever your preference, it is a full dog comforter/dog blanket that will please your pet dog's every snooze. One side of your dog warming blanket feels like faux-sheep skin and the other side is a high quality ultra plush winter dog blanket.
Your winter dog blanket is a machine washable dog comforter that functions as a dog comforter bedding, and a dog warming blanket. The dog comforter is available in pink color.
Let your dog enjoy the comfort of this soft, durable plush dog blanket/comforter for a long time.
See the measurements of the dog comforter below
SOLD OUT
| | |
| --- | --- |
| Small dog blanket/comforter: | 18" x 24" |
| Medium dog blanket/comforter: | 24' x 36" |
| Lsrge dog blanket/comforter: | 36" x 48" |
| | |
| --- | --- |
| Machine washable dog comforter | Easy to keep c.ean |
| Dog blanket/comforter feels like sheep skin | Soft and plush resting mat for your pet |