Bingo's Box Designer Bolster Orthopedic Dog Bed
OUT OF STOCK
Your Bingo's Box Designer Bolster Orthopedic Dog Bed is a big and beautiful dog bed. It is a square dog bed and is the ultimate resting spot for your pet.
The bottom of this orthopedic dog bed is made from medical grade orthopedic foam that supports your pet in delightful comfort.
Take note, also, that this is a bolster dog bed with SuperSoft bolster-filled side walls that hug your pet. All four walls of this square bolster dog bed are filled with an exclusive blend of virgin and recycled materials called Hypro-Loft.
The Hypro-Loft filled designer bolster dog bed is used by Caddis in the manufacture of this square dog bed. An important feature of your Bingo's Box bolster dog bed is the effect of the exclusive blend of materials.
Your orthopedic bolster dog bed will not shift nor mat. This dog bed offers unmatched loft retention; even after many washes your square dog bed retains its shape.
In addition to the medical grade orthopedic foam that provides the ultimate comfort for your pet, the cover of this bolster dog bed is made of a cotton-polyester blend with Sherpa. Your dog bed cover is removable, washable and dryable.
Your designer bolster orthopedic dog bed has a polypropylene liner with Hypro-Loft fiber filling, which is also removable, washable and dryable.
Make no mistake, this is a unique square designer bolster orthopedic dog bed that your pet will just love. It is available in large size only (30" x 40") and four attractive color variations.
Place your mouse over the images below to see the color descriptions.
N.B. Due to limitations in digital imaging and color settings on your monitor, the colors shown may not be exact.
The image of the brown faux-suede/waverly print variation is shown below.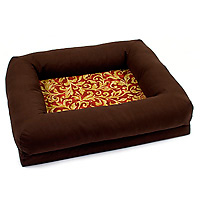 Please Note: These dog beds are hand made. While every effort is made to keep the sizes of the dog beds exact, there may be slight variations.