Dog Fleece Pajamas
What a great feel!!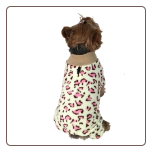 Click to enlarge image(s)

Dog Fleece Pajamas

Finally!! Here are the super soft dog pajamas you really wanted. Available in gray and beige colors, your dog fleece print pajamas are decorated with black paw prints and pink leopard prints.
Whether you need a cat pyjama or a dog pajama, select your ideal pet pyjama and let your pet enjoy its comfortable nightwear. Suitable for small and toy breeds, your fleece dog pyjama clothes is made from a cotton/wool blend. The cuffs and neckline are both knitted cotton.

The pullover-style dog loungewear with turtle neck is also suitable as a dog daywear around the house. During chilly winter nights, both your dog and cat will be kept cozy in the fleece pet pyjamas nightwear.

So while you are in your pajamas, you are assured that your cat and dog both enjoy comfy nightwear in their cozy fleece dog pajama apparel. Go ahead - pamper your pet with this thick fleece dog pajamas. Why not throw a doggy pajama party!!


Hand wash is the recommended method of keeping your dog pajama clean. See three enlarged pictures of your dog pajama clothes below. Other images of the black paw print and the pink leopard print dog pyjama are shown at the top of this page.
| | | |
| --- | --- | --- |
| Beige w/pink Leopard Print dog fleece pajamas | Gray w/black Leopard Print dog fleece pajamas | Beige w/pink Leopard Print dog fleece pajamas |
Pet dog sleep wear pajamas (fleece)

Dimensions of dog fleece pyjamas
L: Length:14.5",Chest:18.5", Neck:13"
M:Length:13",Chest:16", Neck:11.5"
S:Length:12.5",Chest:13.85", Neck:9.85"
XS:Length:10.5",Chest:11.85", Neck:8.75"
XXS:Length:9.5",Chest:9.5", Neck:7.5"
| | |
| --- | --- |
| Thick fleece pet pyjama | Keeps dog cozy during winter nights |
| Pull-over style dog loungewear | Can be worn around the house |
| Cotton/wool blend material in your dog pyjamas | Exceptional comfort and smooth feel |
| Cotton knitt cuffs and neckline for your dog pajamas | Distinctive look for bedtime |