Designer Sailor Girl Dog Stripe Dress
Get yours today!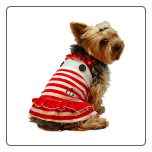 Click to enlarge image(s)
$29.95 Reg.
$25.95 SALE
Designer Sailor Girl Dog Stripe Dress

So you always wanted to put your dog in an attractive sailor type dress? Well, dress up your dog in this designer sailor girl stripe dress and have some fun.
This is an adorable red stripe dog dress that is usable for any occasion. If you are going to the beach with your dog, this dog dress is ideal. It is an item of dog clothing with versatile usage. Your little dog will love this pullover style dog dress.
It is a designer dog stripe dress that fits every special occasion. Made of cotton/poly fabric, this machine washable dog dress features knitted fabric and is a layered dog dress.
| | |
| --- | --- |
| Designer dog stripe red sailor dress | Designer red stripe dog dress front and back |
The layer design feature makes your dog dress eye-catching. Your dog dress apparel can be used as a luxury dog dress, or a formal dog dress. It is an excellent holiday dog dress with the anchor displayed on the back.
Shopping for a small dog dress or large dog dress? You and your dog will love the designer look and the soft cotton/poly fabric. The dog dress is available in sizes from double extra small to large.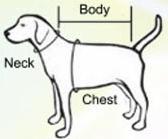 Dog Dress Measurements
| | | | | |
| --- | --- | --- | --- | --- |
| Designer Sailor Girl Dog Dress | Body (inches) | Chest (inches) | Neck (inches) | Dog Breeds |
| XX small dog dress | 8 | 12 | 10 | Chihuahua, Puppy, Yorkshire Terrier |
| X small dog dress | 9 | 13 | 11 | Chihuahua, Puppy, Miniature Doberman, Yorkshire Terrier |
| Small dog dress | 10 | 14 | 12 | Papillon, Pomeranian |
| Medium dog dress | 11. | 15 | 13 | Boston Terrier, Maltese,Toy Poodle |
| Large dog dress | 13 | 18 | 15 | Miniature Schnauzer, Pekingese, Pug, Shih-Tzu |
CURRENTLY OUT OF STOCK
| | |
| --- | --- |
| Machine washable dog dress | Very easy to keep this dress clean |
| Dog dress with cotton/poly fabric | Nice soft touch |
| Anchor displayed on back of dog dress | A mark of distinction |
| Layered dress | Very eye-catching |
| Knitted dog dress | Unique design and styling |