Classic Dog T-Shirt
Gotta get one!!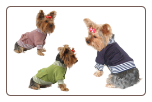 Click to enlarge image(s)
$28.97
Classic Dog T-Shirt/Jacket

Here's a classic dog T-shirt that allows you to dress up your dog like a sailor. Your dog will take on a distinctive nautical appearance in its navy blue dog jacket T-shirt. (Dog jacket also available in green or red bean).
Your classic dog T-shirt/jacket is made of poly/cotton that will keep your dog comfortable all day. As a dog jacket, your dog t shirt is a good wear for formal occasions. At the same time, this dog t shirt adds a touch of distinction to a casual function.
Your dog jacket features one pocket for any dog accessories and the 3 snap closure on this dog jacket allows you to dress up your dog quickly. Removal of the dog t shirt is just as easy.
If you are going to the beach, on a cruise or just by the harbor, this sailor dog T-shirt/jacket is the ideal dress code. Your dog will enjoy wearing this T-shirt. It is a machine washable poly/cotton dog T-shirt.
Big dog or small dog? You will find a large dog jacket or a small dog jacket to fit your pet. It is an adorable sailing jacket for your dog and this dog jacket is just as comfortable when worn as a dog t-shirt.
Determine the size T-shirt for your dog from the table below.
| | | | | |
| --- | --- | --- | --- | --- |
| Classic Dog t Shirt | Length (inches) | Girth (inches) | Neck (inches) | Weight (pounds) |
| XSml dog jacket/t shirt | 7.9 | 12.0 | 7.9 | 1.7 - 4.4 |
| Small dog jacket/t shirt | 9.8 | 14.0 | 9.5 | 4.4 - 7.0 |
| Med dog jacket/t shirt | 11.8 | 16.5 | 11.0 | 7.0 - 10.5 |
| Large dog jacket/tshirt | 13.8 | 18.9 | 12.6 | 10.5 - 15.4 |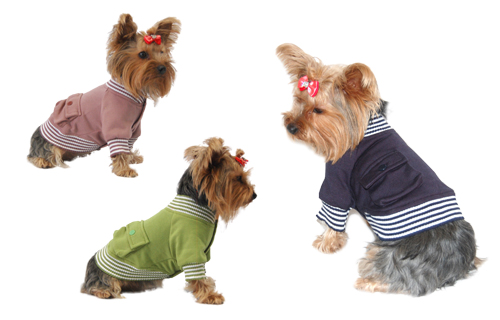 Classic dog jacket/tshirt navy blue, red bean & green

CURRENTLY OUT OF STOCK
| | |
| --- | --- |
| Machine washable dog t shirt | No problem keeping the t=shirt clean |
| 3-snap closure on your dog jacket | Dress up your dog quickly |
| Dog jacket made from poly/cotton fabric | Keeps your dog comfortable all day |