Designer Fashion Quilted Dog Jacket
Get Yours Now!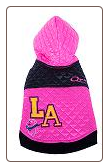 Click to enlarge image(s)
$36.95 Reg.





$18.95
Free Shipping!!!
(within the USA)
Designer Fashion Quilted Dog Jacket
The extra soft quilts on this dog coat combined with the faux-fur trim provides an exquisite snuggle for your dog.
The outside of your designer dog jacket is polyester and the embroidered pup on the back of the dog jacket along with the "L.A." design embroidery is just marvelous.
What a fantastic piece of designer fashion quilted dog clothing!! This is an extremely cute dog bubble jacket that keeps your dog warm and cozy especially during winter.
On the inside of the dog coat you will see the quilted polyester while the acrylic fur hood on this dog winter jacket is simply inescapable.
Adding a touch of class is the knitted cotton cuffs on your dog coat while the snap on button closures ensure a snug fit of this jacket on your dog. Your dog jacket is available both as a vibrant pink dog jacket and a yellow dog jacket.
You will be satisfied with all these features of the dog coat and the size chart below will help you find the correct small or large dog coat.
Here are some images of the pink and yellow dog jacket.
| | | |
| --- | --- | --- |
| Pink L.A. fashion quilted dog jacket -rear view | Pink designer dog jacket - side view | Pink designer dog jacket- front view |
| Yellow fashion quilted designer dog coat - rear view | Yellow designer dog coat - full view | Yellow designer dog coat - angular view |
| | | | | |
| --- | --- | --- | --- | --- |
| Designer Dog Coat | Length (inches) | Girth (inches) | Neck (inches) | Weight (pounds) |
| Extra extra small dog coat | 6.4 | 10.5 | 6.4 | 1.2 - 2.2 |
| Extra small dog coat | 7.9 | 12.0 | 7.9 | 2.0 - 5.0 |
| Small dog coat | 9.8 | 14.0 | 9.5 | 5.0 - 7.0 |
| Medium dog coat | 11.8 | 16.5 | 11.0 | 7.0 - 10.5 |
| Large dog coat | 13.8 | 18.9 | 12.6 | 10.5 - 15.4 |
Free Shipping!!
(within the continental United States)

SOLD OUT
| | |
| --- | --- |
| Embroidered pup on back of the dog jacket | Your dog coat will stand out with this embroidery |
| Embroidered "L.A." design on back of dog jacket | Distinctive and noticeable design |
| Snap on button closure on the dog jacket | Easy to dress and undress your dog |
| Knitted cotton cuffs on this dog jacket | Gives a soft feel to the touch |
| Acrylic fur hood on your dog coat | Especially useful during the winter |
| A dog coat with quilted polyester interior | Keeps your dog warm in cold times |
| Faux-fur trim on the dog coat | Enhances the upscale look of the jacket |