US Army Bomber Dog Jacket
Get yours today!!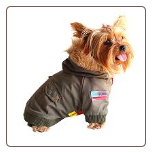 Click to enlarge image(s)
$35.97
Free Shipping!!!
(within the USA)
US Army Bomber Dog Jacket
A very stylish piece of dog clothing!! This army bomber dog jacket or dog coat is available in five sizes ranging from XXsmall to Large.
Whether you want an extra small dog winter jacket or a large dog coat, your army dog jacket makes your dog travel in style. So let them know who is top gun in this army bomber dog jacket.
Your dog jacket is equipped with a furry hoodie to help keep your pet warm. It is a dog jacket that provides superb comfort in a luxuriuos and casual style .
Looking for a casual dog jacket? Your furry dog hoodie coat boasts a U.S. flag patch for patriotic pups.The lining in your furry dog hoodie is done with acrylic fur.
The dog jacket is also made from satin over quilted polyester material while the exterior of your dog hoddie coat is a shiny polyester/cotton blend.
Your dog jacket is a dog coat with snap-on button closure and is a streamlined dog coat for a comfortable fit. It is a beautiful dog coat and attractive designer dog jacket.
See the enlarged image of your designer bomber dog jacket below.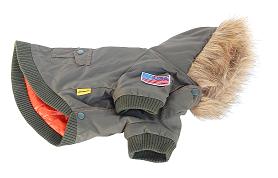 U.S. Army Bomber Dog Jacket
| | | | | |
| --- | --- | --- | --- | --- |
| Designer Dog Jacket | Length (inches) | Girth (inches) | Neck (inches) | Weight (pounds) |
| Extra extra small dog jacket | 6.4 | 10.5 | 6.4 | 1.2 - 2.2 |
| Extra small dog jacket | 7.9 | 12.0 | 7.9 | 2.0 - 5.0 |
| Small dog jacket | 9.8 | 14.0 | 9.5 | 5.0 - 7.0 |
| Medium dog jacket | 11.8 | 16.5 | 11.0 | 7.0 - 10.5 |
| Large dog jacket | 13.8 | 18.9 | 12.6 | 10.5 - 15.4 |
SOLD OUT
| | |
| --- | --- |
| Acrylic fur lining in your dog hoodie | |
| Polyester/cotton blend exterior dog jacket | |
| Snap-on button closure for your dog coat | |
| Satin over quilted polyester dog jacket | |