Designer QPet Dog Bubble Jacket
Fetch one now!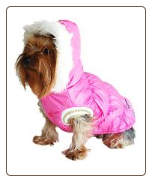 Click to enlarge image(s)



$33.95 Reg.

$18.95 SALE
Free Shipping!!!
(within the USA)
Designer QPet Dog Bubble Jacket

Want a designer dog winter jacket? Like your dog to travel in style? Your QPet designer dog bubble coat provides warmth in luxurious style. This is a stylish piece of dog clothing that caputres the the essence of luxury!!
The inside of your dog coat is made from quilted polyester satin that provides superb comfort for your dog, while the outside of your dog clothing is made from shiny polyester. The QPet logo is embroidered on the back of the dog coat.
Your designer dog jacket is very soft and has stuffed quilts to keep your pet very snug. The snap on button closures at the front of the dog coat are secure and also help to keep out the cold weather.
This designer QPet dog bubble jacket is a dog coat suited for day or night. It is an item of dog clothing that's very comfortable and attractive. The cotton knitted cuffs add a nice contrast and a touch of elegance.
Take a look at the acrylic fur lining around the hood of your beautiful dog coat and you will appreciate the protection this coat provides your dog.
| | | |
| --- | --- | --- |
| Side view Designer QPet Dog Bubble Jacket - Pnk | Front view Designer QPet Dog Bubble Jacket | Side view designer QPet dog bubble coat jacket - blue |
Use the size chart below to make your selection from the extra small dog coat to the large dog coat.
| | | | | |
| --- | --- | --- | --- | --- |
| Designer Dog Coat | Length (inches) | Girth (inches) | Neck (inches) | Weight (pounds) |
| Extra extra small dog coat | 6.4 | 10.5 | 6.4 | 1.2 - 2.2 |
| Extra small dog coat | 7.9 | 12.0 | 7.9 | 2.0 - 5.0 |
| Small dog coat | 9.8 | 14.0 | 9.5 | 5.0 - 7.0 |
| Medium dog coat | 11.8 | 16.5 | 11.0 | 7.0 - 10.5 |
| Large dog coat | 13.8 | 18.9 | 12.6 | 10.5 - 15.4 |
Free Shipping!!
(within the continental United States)
| | |
| --- | --- |
| Snap on button closure on your dog jacket | Secure and close fit for your dog |
| Shiny polyester with QPet embroidery | Attractive appearance for your designer dog coat |
| Acrylic fur around the hood | Ensures your pet is well protected with a dog hoodie jacket |
| Cotton knitted cuffs on this dog jacket | Great contrast and elegance for the dog jacket |
| Quilted polyester satin inside the dog coat | Ensures a comfortable fit for the dog |