Designer Stuffed Plaid Dog Parka Jacket
Woof! Woof!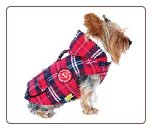 Click to enlarge image(s)
Free Shipping!!!
(within the USA)

$33.95
Designer Stuffed Plaid Dog Parka Jacket
Fantastic dog clothing!! This dog plaid parka jacket is available in brown or red color and five sizes. Your pup has never had it so good. Plaid is back in fashion and your dog parka provides exceptional warmth.
Whether you want a dog winter jacket or you like your dog to travel in style, this dog designer coat provides superb comfort in a luxuriuos style.
Made from blended wool fabric (twill over coating), your dog clothing has a quilted shiny polyester inside the jacket. Also, the hood on this dog jacket is made from acrylic fur.
This is the perfect designer dog jacket for small pups. Your fashionable dog parka coat is fitted with two front pockets while the red and brown plaid design on your dog jacket is a very attractive piece of dog clothing.
Your stuffed plaid dog coat is equipped with snap-on button closures that facilitate the best fit and the cute pup appliques on your dog parka highlights the designer fashion.
This dog coat is a beautiful and attractive designer dog parka jacket. Put your dog in this dog parka and watch him fall in love with a great dog coat.
| | | | |
| --- | --- | --- | --- |
| Designer dog parka jacket - side view red | Designer dog parka - rear view red | Designer dog parka coat - front view brown | Designer dog parka rear view brown |
| | | | | |
| --- | --- | --- | --- | --- |
| Designer Dog Coat | Length (inches) | Girth (inches) | Neck (inches) | Weight (pounds) |
| Extra extra small dog coat | 6.4 | 10.5 | 6.4 | 1.2 - 2.2 |
| Extra small dog coat | 7.9 | 12.0 | 7.9 | 2.0 - 5.0 |
| Small dog coat | 9.8 | 14.0 | 9.5 | 5.0 - 7.0 |
| Medium dog coat | 11.8 | 16.5 | 11.0 | 7.0 - 10.5 |
| Large dog coat | 13.8 | 18.9 | 12.6 | 10.5 - 15.4 |
SOLD OUT
| | |
| --- | --- |
| Quilted shiny polyester inside your dog parka coat | |
| Acrylic fur around the dog jacket hood | |
| Dog parka made with blended wool fabric | |
| Two front pockets on this dog parka | |
| A dog parka coat with snap on button closure | |