Fluffy Bear Dog Hoodie
Get your dog hoddie now!!
Click to enlarge image(s)
Designer Fluffy Bear Dog Hoodie

$27.95 Reg.
$18.95 SALE
FREE SHIPPING
Your Designer Fluffy Bear Dog Hoodie is an adorable dog hoodie jacket. This is a dog hoodie made from a blend of fine wool and cotton that allows your dog to be comfortably clothed.
It is a fluffy dog hoodie that features an embroidered bear on the back while the hood of your dog hoodie features little ears. The cuffs on this dog hoodie jacket are knitted.
Your dog will look so cute with the bear embroidered on the back of the hoodie. The inside of this hoodie is lined with a satiny fabric with star prints.
You will also notice the button closure in the front of your dog hoodie jacket that makes for easy fitting. It is a machine washable dog hoodie. See other images of your hoodie dog jacket below.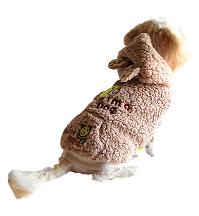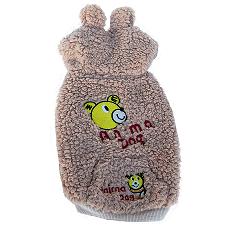 Designer fluffy dog hoodie showing rear view and embroidered bear on back
| | | | | |
| --- | --- | --- | --- | --- |
| Designer Dog Hoodie | Length (inches) | Girth (inches) | Neck (inches) | Weight (pounds) |
| Extra extra small dog hoodie jacket | 6.4 | 10.5 | 6.4 | 1.2 - 2.2 |
| Extra small dog hoodie jacket | 7.9 | 12.0 | 7.9 | 2.0 - 5.0 |
| Small dog hoodie jacket | 9.8 | 14.0 | 9.5 | 5.0 - 7.0 |
| Medium dog hoodie jacket | 11.8 | 16.5 | 11.0 | 7.0 - 10.5 |
| Large dog hoodie jacket | 13.8 | 18.9 | 12.6 | 10.5 - 15.4 |
SOLD OUT
| | |
| --- | --- |
| Dog hoodie made from blend of cotton and wool | |
| Knitted cuffs on youe dog hoodie | |
| Dog hoodie lined with satiny fabric and star prints | |
| Embroidered bear on back of dog hoodie | |