Camouflage Drawstring Dog Hoodie Jacket
Get your dog hoodie now!!
Click to enlarge image(s)
$27.97
Camouflage Drawstring Dog Hoodie Jacket
FREE SHIPPING
A very comfortable dog hoodie jacket in stylish camouflage!!! Your dog jacket functions as a casual dog sweater and is available in pink and brown color options.
A fantastic dog winter jacket, it is a dog jacket that's a must for your pet especially during the cold winter months.The four sizes of this dog sweater range from an extra small dog sweater jacket to a large dog sweater jacket.
Your dog hoodie sweater jacket features camouflage print with ribbed polyester knit. If your search includes a pink camouflage dog coat or a brown camouflage dog coat, this dog sweater jacket keeps your pet warm.
So whether you need an extra small dog sweater hoodie coat or you just need to put your dog in a coat, the velcro closure on this dog hoodie jacket ensures freedom of movement.
The adjustable drawstring on your dog sweater jacket allows for excellent fit.
See more images of our drawstring camouflage dog hoodie sweater jackets below.
| | | |
| --- | --- | --- |
| Camouflage hoodie dog jacket - front view | Camouflage dog hoodie jacket - brown | Camouflage dog sweater jacket - side view |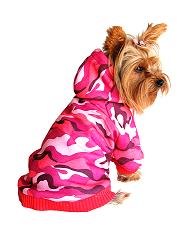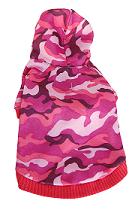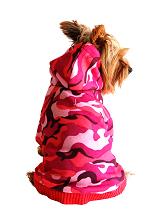 Pink camouflage dog hoodie sweater jacket - side, front and rear view


| | | | | |
| --- | --- | --- | --- | --- |
| Designer Dog Jacket | Length (inches) | Girth (inches) | Neck (inches) | Weight (pounds) |
| Extra extra small dog jacket | 6.4 | 10.5 | 6.4 | 1.2 - 2.2 |
| Extra small dog jacket | 7.9 | 12.0 | 7.9 | 2.0 - 5.0 |
| Small dog jacket | 9.8 | 14.0 | 9.5 | 5.0 - 7.0 |
| Medium dog jacket | 11.8 | 16.5 | 11.0 | 7.0 - 10.5 |
| Large dog jacket | 13.8 | 18.9 | 12.6 | 10.5 - 15.4 |
Free Shipping!!
(within the continental United States)

CURRENTLY OUT OF STOCK
| | |
| --- | --- |
| Adjustable drawstrings on this dog sweater hoodie | Allows for customizing the hoodie |
| Stylish and attractive camouflage print dog coat | Very eye-catching dog jacaket |
| Velcro closure for your dog sweater jacket | Adjustable for a comfortable fit |
| A dog jacket with ribbed polyester knit | Keeps your dog warm |