Designer Dog Sweat Shirt
Get yours today!!
Click to enlarge image(s)
$27.35 Reg.
ONLY $20 SALE
Designer Dog Sweat Shirt
FREE SHIPPING
When you put this designer dog sweat shirt on your dog you will notice that your dog sweat shirt also functions as a pullover dog sweater.
You will love showing off this chic QPet-designer pullover dog sweater. It is a knitted dog sweat shirt that features the QPet logo embroidered on the back of the sweater.
Your knitted dog sweater is available as a dog pink or gray sweater, a large dog sweater, a tiny dog sweater, xs dog sweater or xxs dog sweater or a medium dog sweater.
It is an excellent sweater for tiny dogs. The images below depict the dog hooded sweater in both the pink and gray colors. The dog hooded sweat shirt comes with adjustable drawstrings.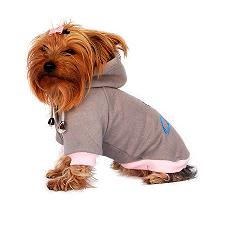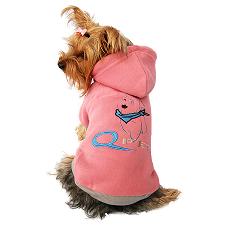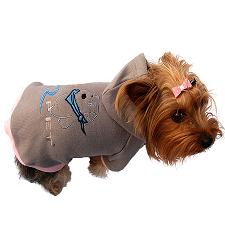 Pink and gray dog pullover hooded sweater
| | | | | |
| --- | --- | --- | --- | --- |
| Designer Dog Sweat Shirt | Length (inches) | Girth (inches) | Neck (inches) | Weight (pounds) |
| Extra extra small dog sweat shirt | 6.4 | 10.5 | 6.4 | 1.2 - 2.2 |
| Extra small dog hooded sweater | 7.9 | 12.0 | 7.9 | 2.0 - 5.0 |
| Small dog hooded sweater | 9.8 | 14.0 | 9.5 | 5.0 - 7.0 |
| Medium dog sweat shirt | 11.8 | 16.5 | 11.0 | 7.0 - 10.5 |
| Large dog sweat shirt | 13.8 | 18.9 | 12.6 | 10.5 - 15.4 |
Free Shipping!!
(within the continental United States)

CURRENTLY OUT OF STOCK
| | |
| --- | --- |
| Adjustable drawstrings on your dog knitted sweatshirt | |
| A dog sweater made with woven cotton and polyester blends | |
| Your dog hooded sweater is a stretchable cotton with wool inside | |