Designer Polo Dog T shirt
Fetch one now!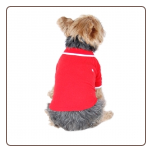 Click to enlarge image(s)


$28.95 Reg.

Designer Polo Dog T-Shirt

Want to see a wonderful transformation in your dog's appearance? Here's an elegant designer dog T-shirt that will fit your extra small dog or your large dog.
Your dog t shirt features a snap closure that facilitates dressing up your dog quickly. So choose a big or small dog T-shirt and dress up your dog in this lovely polo shirt.
The single paw print on the back side of your poly/cotton t shirt adds a stamp of distinction to the garment that is sure to complement your own attire. If you are going to the park, or just having an evening stroll, this dog T- shirt will turn heads.
Your dog will enjoy wearing this T-shirt with short sleeves. It is available in attractive red or black colors, with white trim around the collar and the sleeves, and your designer polo dog t shirt is machine washable.
Whether you choose the big dog T-shirt or a small dog T-shirt, your dog will be very comfortable and you will be happy.
Determine the size T-shirt for your dog from the table below.
Your dog T-shirt is available in five sizes.
| | | | | |
| --- | --- | --- | --- | --- |
| Dog T-shirt Size | Length (inches) | Girth (inches) | Neck (inches) | Weight (pounds) |
| Extra small dog t shirt | 7.1 - 8.7 | 11.0 - 12.6 | 7.1 - 8.7 | 1.7 - 4.4 |
| Small dog t shirt | 8.7 - 10.2 | 14.2 - 15.7 | 7.9 - 9.4 | 4.4 - 7.0 |
| Medium dog t shirt | 10.6 - 12.2 | 15.7 - 17.3 | 9.4 - 11.0 | 7.0 - 10.5 |
| Large dog t shirt | 12.6 - 14.2 | 18.1 - 19.7 | 11.0 - 12.6 | 10.5 - 15.4 |
Red and black polo dog t shirts showing side, front, and back views

CURRENTLY OUT OF STOCK
| | |
| --- | --- |
| Attractive colors with white trim on t shirt | Appealing to the eye and will turn heads |
| Machine washable dog t shirt | Easy to clean this polo dog shirt |
| Snap closure on t-shirt for your dog | Easy to dress up your dog quickly |