Designer Pull-over Dog T-Shirt
Get yours now!!!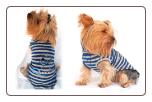 Click to enlarge image(s)


$25.85 Reg.
$11.95 SALE
Designer Pull-over Dog T-shirt

Your dog apparel collection must include this designer pull-over dog t-shirt. Made from poly/cotton T-shirt fabric, it is available in two different embroidery design logos on the back of the t-shirt.
Designed with raglan sleeves, the poly/cotton t-shirt fabric allows your dog to stay cool even during the summer season, and you have the option of selecting the dog logo embroidery or the QPet logo that are sewn into the fabric on the back of the t-shirt for your dog.
They are both machine washable designer dog t-shirts that are also presented in various stripe combinations. Your dog t-shirt clothes are very comfortable and are ideally suited for play time.
Just imagine the fun time when you dress up your dog in this striped t-shirt and go out to play in the park. The raglan sleeves allow for good agility in your pet and there is absolutely no restriction to movement!
These designer dog t-shirts are displayed below so you can choose from an extra small dog t-shirt to a big dog t-shirt.
| | | |
| --- | --- | --- |
| Designer dog t-shirt light blue, red & navy color w/dog logo | Designer dog t-shirt QPet logo | Designer dog t-shirt green/black - Qpet logo |
| Designer dog t-shirt blue/grey - QPet logo | Designer dog t-shirt brown/black - QPet logo | Designer dog t-shirt blue/black - QPet logo |
Currently only the brown t-shirt is available
| | | | | |
| --- | --- | --- | --- | --- |
| Dog T-Shirt Size | Length (inches) | Girth (inches) | Neck (inches) | Weight (pounds) |
| X small dog t-shirt | 7.9 | 12.0 | 7.9 | 1.7 - 4.4 |
| Small dog t-shirt | 9.8 | 14.0 | 9.5 | 4.4 - 7.0 |
| Medium dog t-shirt | 11.8 | 16.5 | 11.0 | 7.0 - 10.5 |
| Large dog t-shirt | 13.8 | 18.9 | 12.6 | 10.5 - 15.4 |
| | |
| --- | --- |
| Poly/cotton t-shirt fabric for your dog clothes | Your dog stays cool even in the summer time |
| QPet embroidered logo on designer dog t-shirt | Eye catching and appealing |
| Raglan sleeve for your dog t-shirt | Ease of movement without restriction |
| Machine washable | Easy to clean your dog pullover t-shirt |