Single/Double/Triple Door Dog Metal Cage
Grab yours today!!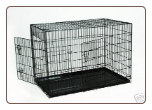 Click to enlarge image(s)
Single/Double/Triple Door Dog Metal Cage
$59.97
Take your folding wire dog crate anywhere!! These single, double and triple door dog metal cages are fully assembled and they fold down easily. The dual purpose handle on your wire dog crate allows portability and easy removal of the metal pan.
The images below display both the assembled dog cage and the folded suitcase style wire dog crate. The handle is useful for carrying the folding wire dog crate and also to remove the metal pan for cleaning.
Your metal dog cage is available in black and pink colors and are made with rounded edges for your pup's safety. Another safety feature of this wire dog crate is the double bolt latches on each door.
| | | |
| --- | --- | --- |
| 20" folding metal dog cage single door - small black | 24" folding wire dog crate double door - medium black | Triple door (30", 36", 42", 48") folding wire dog cage - large black |
| Small single door 20" dog folding wire cage - pink | Medium double door 24" folding wire dog crate - pink | Suitcase style 30" dbl door folding wire dog crate - pink |
The small dog crate is available with single door only and the medium dog crate has double doors.
Note that the large black wire dog crates (30", 36", 42", 48") all feature triple doors including a top door for easy access to the dog cage.
Made with powder coat low carbon steel wire, your wire dog crate is strong and long lasting. Both the black and the pink dog wire crate have a durable electro-coat finish. The deluxe tough metal pan of this metal dog cage is easily cleaned.
The mesh on this wire crate for dogs measures 1-1/2" x 4-7/8" and the wire on your dog cage is 4, 6, 8, 12 gauge.
Dimensions of your wire dog crate:
Small dog cage - 20"L x 12"W x 14"H
Medium dog cage - 24"L x 23"W x 20"H
Large dog cage - 30"L x 21"W x 24"H
XLarge dog cage - 36"L x 23"W x 26"H
XXLarge dog cage - 42"L x 27"W x 30"H
XXXLarge dog cage - 48"L x 29"W x32"H
The medium size of your folding wire dog crate and the large pink dog cage (30") are available with double doors only.
CURRENTLY OUT OF STOCK
| | |
| --- | --- |
| Small metal dog cage: | 20"L x 12"W x 14"H |
| Medium metal dog cage: | 24"L x 23"W x 20"H |
| Large metal dog cage: | 30"L x 21"W x 24"H |
| XLarge metal dog cage: | 36"L x 23"W x 26"H |
| XXLarge metal dog cage: | 42"L x 27"W x 30"H |
| XXXLarge metal dog cage: | 48"L x 29"W x 32"H |
| Wire dog crate mesh size: | 1-1/2" x 4-7/8" |
| Dog cage wire: | 4, 6. 8, 12 gauge |
| | |
| --- | --- |
| A suitcase style folding wire dog crate | |
| Rounded edges on the dog cage for pup's safety | |
| Dog metal cage made with 4, 6, 8, 12 gauge wire | |
| Double bolt latches on each door of dog cage | |
| Easy to clean deluxe metal pan for your dog crate | |