$55.95
Portable Dog Tent/Dog Home/Dog Crate
FREE SHIPPING!!!

So many pet owners just love this 3-in-one portable pet home that combines the best features of a portable dog kennel and a permanent pet shelter into one convenient and lightweight dog carrier unit.
Looking for a durable lightweight dog tent or a portable pet home? Your dog travel crate is very suitable for many outdoor activities. It is so easy to carry, and is useful also as a dog carrier tent or an indoor / outdoor dog crate bed.
The heavy-duty construction coupled with innovative styling provides the flexibility of a portable pet home, dog carrier, and dog crate / dog tent. When folded your dog tent is less than 2" thick, taking 93% less space than other dog crates or dog kennels.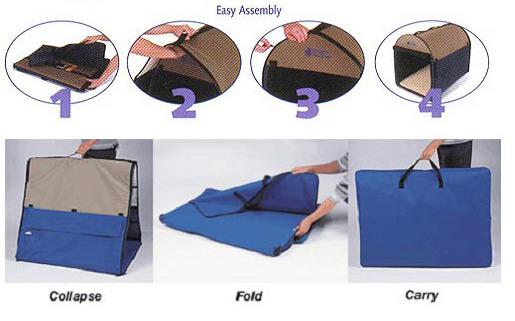 Easy steps to assemble, collapse, fold and carry your dog tent /dog crate
Made from heavy-duty, 600D polyester with a tough PVC backing for strength, durability and water resistance, your pet home is 44% lighter than similar plastic kennels.
For carry-on commercial airlines specifications, this portable pet kennel is airline approved and includes a leash ring on the inside. Your dog tent accommodates pets up to 15 lbs. in the small tent and 35 lbs. in the large tent.
The mesh panels on all four sides of your dog tent provide adjustable ventilation and feature roll-up panel covers (see images below). It comes with a detachable shoulder strap and exterior storage pockets

The screen mesh door for this dog tent home has a heavy-duty nylon zipper closure and the door of your dog tent /dog crate can be rolled up and secured with Velcro.
A removable waterproof polypropylene tray with sheepskin pad is included with your dog travel crate / dog tent to provide added comfort . Truly a dog tent that's useful as a pet kennel, or a dog travel crate.
Using your dog tent as a portable pet home makes it the perfect companion for traveling pets and pet owners. It comes with a convenient tote bag for travel and storage.
THIS DOG TENT NOT RECOMMENDED FOR PUPPIES OR CHRONIC CHEWERS

DOG TENT/DOG CRATE CAPACITY
| | |
| --- | --- |
| Dog Tent/Dog Crate Size | Maximum Weight of Dog |
| Small dog tent (20" L x 14" W x 16" H) | Up to 15 LBS |
| Medium dog tent (24" L x 18" W x 20" H) | Up to 25 LBS |
| Large dog tent (32" L x 22" W x 26" H) | Up to 35 LBS |
| | |
| --- | --- |
| Small Portable Designer Dog Crate/Tent - Hot Pink | Small Portable Designer Dog Crate/Tent - Blue |
| Medium hot pink designer dog crate/tent | Large blue portable dog crate/tent |
N.B. Due to the limitations of digital imaging and the color settings on your minitor, the colors shown may not be exact.
PLEASE NOTE: THE DETACHABLE SHOULDER STRAP IS AVAILABLE WITH THE SMALL SIZE DOG TENT ONLY
(FREE SHIPPING WITHIN THE CONTINENTAL USA)