Designer Dog Shoulder Sling Bag
Get one today!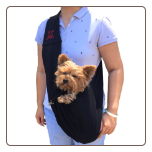 Click to enlarge image(s)
$42.95 Reg.
$38.95 SALE
Designer Dog Shoulder Sling Bag

So you are going for a stroll in the park and you need a pet sling bag for your dog or cat!! The small designer dog travel tote bags shown on this page are your ideal small dog carrier slings.
Also used by many pet owners as a cat carrier sling bag, your sling tote bag is a very convenient dog pouch carrier. You can take your small dog with you hands free.

It is a small lightweight dog carrier bag (20"x11") that functions as a dog carry bag for small dogs. This is simply the designer shoulder pet sling carrier for small dogs that every small pet owner must have.
These pet sling carriers are so easy to carry over your shoulder, you can take your dog or cat with you every time you leave home.

Available in black, grey, pink, blue and purple colors, your dog carrier shoulder sling bag wears comfortably and allows you to carry your small dog, your cat or your puppy in style.
| | | | |
| --- | --- | --- | --- |
| Designer Dog Shoulder Sling Bag - Grey | Desinger Dog Shoulder Sling Bag - Pink | Designer Dog Shoulder Sling Bag - Blue | Designer Dog Shoulder Sling Bag - Purple |

You can have a casual stroll with the confidence that this dog pouch carrier or cat carrier bag is an excellent and strong pet sling carrier.


Made with a washable fabric this designer dog travel sling carrier bag will carry your small dog up to 14 lbs in weight. For added security, your dog travel sling shoulder bag is fitted with a leash attachment inside.

You will love the soft, smooth texture of your pet carrier whether you prefer to use it as a shoulder sling dog carrier bag, a designer cat carrier bag, or a puppy carrier bag.

PLEASE NOTE: Due to the limitations of digital imaging and the color settings on your monitor, the colors shown may not be exact.

CURRENTLY OUT OF STOCK
| | |
| --- | --- |
| Dimensions of dog sling carrier bag: | 20"x11" |
| | |
| --- | --- |
| Leash attachment inside this dog sling bag | Your pet remains with you in the sling all the time |
| Carrying weight of the pet carrier: 14 lbs | A comfortable weight for your shoulder |
| Washable fabric used for your dog pouch carrier | Very easy to clean this sling carrier |
| A small lightweight dog carrier bag | Fold and store your dog bag in small spaces |